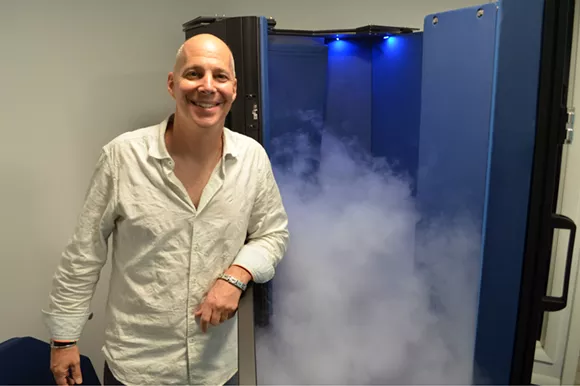 At minus 230 degrees, a cryotherapy chamber is nearly as cold as an editor's heart.


I took my pants and shirt off, put on gloves, socks, and booties, and spent three minutes in one of them Wednesday at CryoWorks Michigan, which quietly opened in Berkley in late July.


I stepped into the chamber, with my head sticking out of the open top, and manager Rayan Halwani pressed a button on the $60,000 machine to begin pumping in nitrogen gas.


While clients can ask for a 30-second pause or step out early if they're feeling too cold, I made it through the three minutes — the maximum treatment time — without a problem, chatting with Halwani and CryoWorks co-owner Eric Spector and flexing my knees a bit to keep moving. Halwani counted down as I neared the end: "90 seconds! 60 seconds!"


The theory behind cryotherapy is simple. "Your body thinks it's going to die," Spector says.


I tried Level I, or minus 230 degrees. Level II is minus 240 degrees, and Level III is minus 250.


The difference is more distinct than, say, the contrast between a 60-degree day and an 80-degree day.


"Level III's a mofo," Spector says. "Some people — all they do is III."


The objective is pain management. The energetic and affable Spector, a 50-year-old attorney and former professional road racer, says he was sold on cryotherapy when it helped him manage pain from past injuries sustained on dirt bikes, motorcycles, and bicycles.


The negative temperatures provided relief for Spector in a way that steroid injections, physical therapy, yoga, and acupuncture did not, he says.


Blood goes to the body's core at such low temperatures, Spector says, and is enriched with collagen, endorphins, and oxygen before returning to inflamed areas once the treatment is complete and the body warms up.


"I feel like myself 10 years ago," Spector says. He opened CryoWorks with partner Dan Buckfire at the corner of Woodward Avenue and Eaton Road.
Most customers at Cryoworks are former athletes managing injuries or athletes who want to recover faster, Spector says.


What's known as whole body cryotherapy was developed in Japan in the 1970s as a rheumatoid arthritis treatment. Much like LSD and sushi, it first took off in the U.S. on the East and West coasts, and now it has made its way to Detroit.


Cryotherapy treatment isn't FDA-approved, something Spector is careful to note. But it's come into widespread use in the locker rooms of professional sports teams, used by athletes as well-known as Floyd Mayweather and Lebron James.


Clients at CryoWorks sign a waiver that screens them for conditions that would preclude them from entering the chamber, such as pregnancy, a pacemaker, blood clots, and Raynaud's disease. The maximum amount of treatments allowed is two per day, with an interval of at least four hours between them.


After I stepped out of the chamber Wednesday, my legs were visibly frosty, but I warmed up quickly and felt a nice adrenaline rush at the same time.


Spector then took his turn, and as we chatted, I realized something everyone can agree on about the treatments: The time goes by much faster when you're not the guy in the chamber.
CryoWorks Michigan is located at 27083 Woodward Ave. in Berkley. For more information or to schedule an appointment, call 248-607-9171 or visit cryoworksmichigan.com.