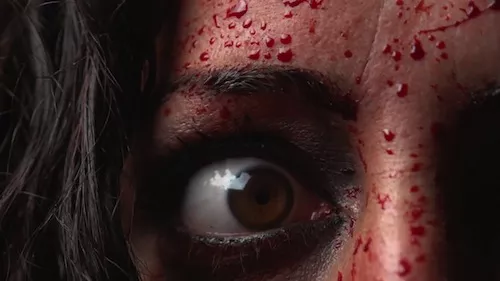 By now, audiences are used to those pre-feature trailers chiding viewers to shut down their cell phones before the movie begins.
Well, here's a movie where the filmmakers want you to keep your phone turned on.
It's called
I, Victim
, and it's the first locally produced movie we've heard of that asks you to use your phone to guide the character's decisions and, therefore, the plot.
As you may have guessed from the title, it's a horror film. It concerns three characters trying to make their way through the domains of several killers. Depending one the choices the audience makes, some screenings could get gorier than others.
The unusual experimental film, shot on high definition video, is brought to you by husband-and-wife team Damon and Lortensia Merchant. Detroit-born Damon is the director and Lortensia is the executive producer. Detroit-born Damon tells us, "If you have an iPhone or android phone, you'll be able to control action on screen. As people are watching movie, a screen will pop up and ask whether you'd like to have a character do this or that. The audience gets to vote via phone on two to four different choices on how to proceed."
If the movie's concept calls to mind those create-your-own-story books of the 1980s, you're not alone, Damon says. A better comparison, however, might be a video game like Supermassive Games'
Until Dawn
, in which gamer decisions produce a "butterfly effect" affecting how the story plays out. (And also because the story doesn't end two pages in.)
That said, making a create-your-own-story horror film ain't easy, Damon tells us. Shooting it was "roughly equivalent to shooting six different movies," and since it's almost impossible to know which scenes will hit the screen during a showing, it's impractical to get the film rated by the MPAA. (Not that a horror film being unrated keeps splatter fans away.)
"You might not even see the really gory stuff depending on path the audience chooses," Damon says. But there is plenty of blood if the movie goes that way. He says it has "everything but a buzzsaw."
"Basically, the premise is that you have three characters who have to survive six different 'killing grounds' with six different serial killers," he says. "The levels get harder as you progress. And the audience chooses which character it would like to get into each level. But once a character dies, that's it for them."
Even the film's length can change depending on the choices: The screening can be 60 minutes to two and a half hours.
"We could have created this film to where it always lasts about the same amount of time, or always has same type of ending and all characters make it to the final levels and so forth, but it wouldn't be an honest, interactive choose-your-own adventure books."
I, Victim
screens at 9 p.m. on Oct. 21, Oct. 22, Oct. 28, and Oct. 29, at Emagine Novi, Twelve Mile Crossing at Fountain Walk, 44425 W. 12 Mile Rd., Novi; 248-468-2990.