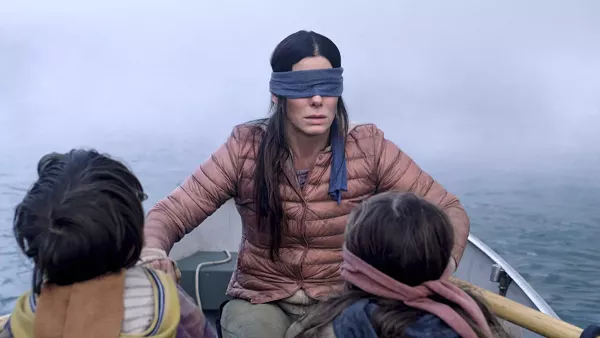 When Netflix began teasing the trailer for its latest original film
Bird Box
, we would have never been able to predict that the film would become the last great meme of 2018.
Based on the novel by Michigan author (and the High Strung frontman)
Josh Malerman
, the film follows its pregnant central character Malorie (played by Sandra Bullock) as she attends an ultrasound appointment with her protective, and often critical older sister, Jessica. Within the film's first twenty minutes, however, Malorie comes face to face with an apocalyptic nightmare as crowds of people begin committing suicide en masse.
Malorie's journey through the film jumps between past and present; when the deadly phenomenon first occurs and five years later, when Malorie is forced to take a long journey down a river while toting around two young children — all while completely blindfolded.
Although
Bird Box
is at times very eerie, the best thing to happen following the release of the Netflix original is all the dang memes. Within the past few days, social media has lit up with interpretations and jokes of
Bird Box
's disturbing premise.
Some made us laugh:
#birdbox got me feeling like this pic.twitter.com/YpQzLVMEhG

— yung travvy (@cmatrav) December 27, 2018
Them: "Look and your tuition paid for"
Me: #BirdBox 😭🤦🏾‍♂️ pic.twitter.com/8N9P52gqhw

— Spook♠️🅱️ (@daccor11) December 27, 2018
#birdbox
Demon: Tom ain't got no shirt on

Me: pic.twitter.com/IWD34168kk

— Quirkless_with_No_Magic (@ImCooL_LiKe_DaT) December 27, 2018
This scene in birdbox had me on the edge of my seat #birdbox pic.twitter.com/kEI4nPkNCx

— Edgar (@e_jizzzy) December 27, 2018
Some made us cry:
"it's just a speed bump" #birdbox⁠ ⁠ pic.twitter.com/jU2etSj46g

— L.A. Kapone (@lakapone_) December 27, 2018
Even people who haven't seen the movie got in on the fun:
When you can't afford Netflix but the kids wanna watch #BirdBox⁠ !!
pic.twitter.com/5O3pcpjD43

— COACH (@thebillymanziel) December 27, 2018
And this is you tonight after you finally watch
Bird Box
to see what all the hype is about:
Me finally getting all the #BirdBox memes after watching it pic.twitter.com/EfAUjyLlVr

— ᜃ͓ᜌ͓ᜎ͓ᜀ (@Kyluhhhhh_) December 27, 2018
Stay on top of Detroit news and views. Sign up for our weekly issue newsletter delivered each Wednesday.