Meet with famous comic book artists, cosplayers, wrestlers, special effects artists, 3-D artists, designers, and illustrators at this one-day event. This year's featured guest is Art Baltazar, whose work includes The Cray-B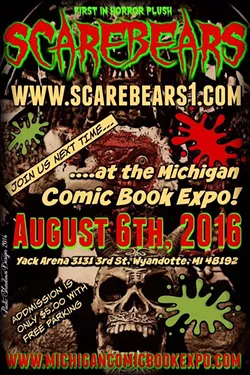 aby Adventures, The Big Amoeba, Gorilla Gorilla! and more. There will also be a photographer to capture all the best cosplay (props are encouraged, come ready to recreate your favorite scenes) and an Attack at the Yack featuring Xtreme Intense Championship Wrestling wrestlers Zach Gowen, Dominique Fabiano, Matt Cross, and "The Man Beast" Rhino.
Saturday, 8/6, Runs 6-11 p.m.; 3131 Third St., Wyandotte;
michigancomicbookexpo.com
; $5 at the door, no presales; tickets to Attack at the Yack are $10-25 and available on
eventbrite.com
; free parking.