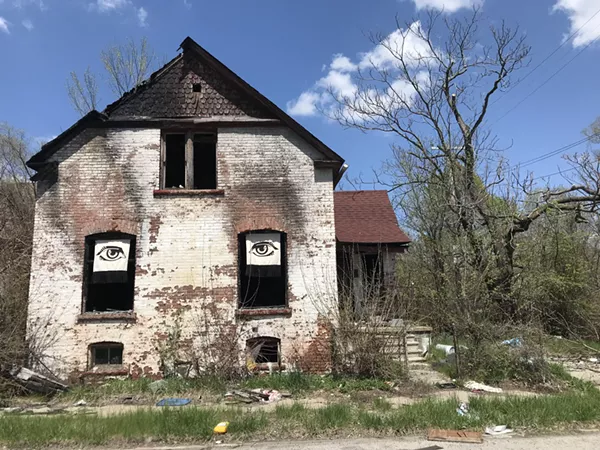 A traveling showcase of films and installations that reflect on art as a form of dissent comes through Detroit tomorrow for a one-night-only presentation that will incorporate a group of subversive local artists.
COLLECT CALL
will be held at the K.O. Gallery in Hamtramck. The showcase is anchored by new work from the activist-art collective
INDECLINE
, which has made national news for its
naked Trump statues
and for augmenting a shooting range billboard to say
"Shoot A School Kid"
following the deadly massacre at Marjory Stoneman Douglas High School in Parkland, Florida. It also features the work of freight train-hopping graffiti artist SWAMPY, as well as show curator Andrew H. Shirley, a "nomadic" videographer and multidisciplinary artist who hails from Detroit.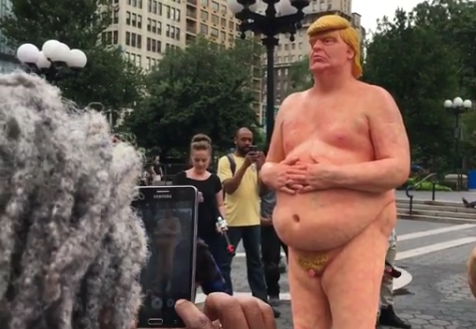 Local work to be included in the exhibit's Detroit stop includes a virtual reality film experience, "#Frozen_in_a_Detroit_wonderland," by Ryan C. Doyle. Filmmaker Oren Goldberg's compilation piece of rituals surrounding the demolition of the Brewster-Douglass Towers will be on display, along with bricks from the buildings that once made up the public housing complex. Artist Amy
Fisher Price
will video stream fabric eyes, designed like the eyes from Detroit's old Angel's Night posters, as they wave in the window frames of a derelict Detroit house. Illustrator,
animator,
and rapper Count Mack will premiere for the first time his new video for the song, "G-String." And painter and photographer
Nick Jaskey
will bring his red circles, which he seamlessly integrates with Detroit's landscape, inside for the first time, with a display in the Jos Campau gallery's old boutique windows.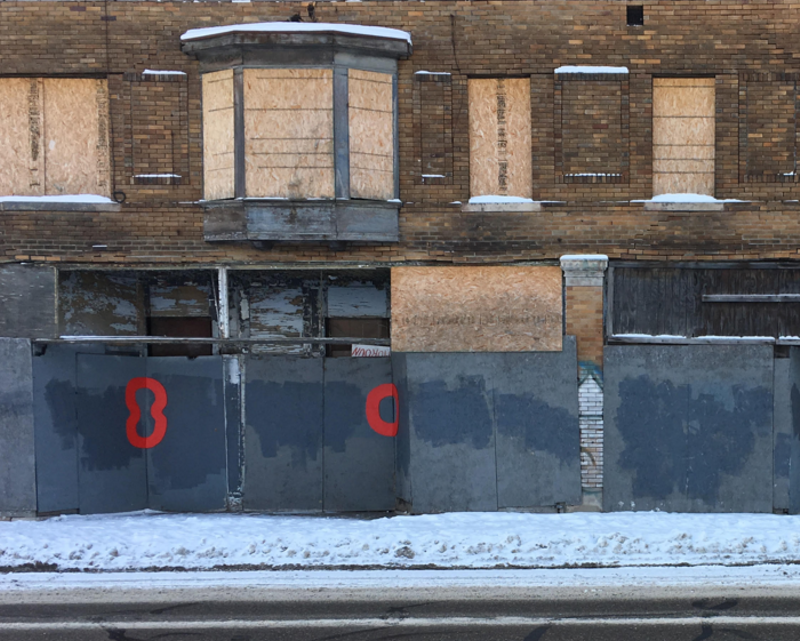 For curator Shirley, who is accustomed to showing his own films outside train stations or in backyards, "The showcase is an opportunity to bring artists from different walks of life into settings where maybe they wouldn't traditionally be seen."
He says he strives to incorporate local talent in whatever screenings or shows he puts on around the country so the audience can feel as if they're a part of the experience.
"It's good to have the outside influence, but when you create a platform that has nontraditional artists and voices that are usually unheard being exhibited along with your peers and contemporary artists in your own environment, it allows you to feel empowered in a way that it's like well I have a voice too, I have a story," he says.
COLLECT CALL takes place Wednesday May 16 the KO Gallery in Hamtramck. Doors open at 7 p.m. The cost of entry is $3.
Get our top picks for the best events in Detroit every Thursday morning. Sign up for our events newsletter.