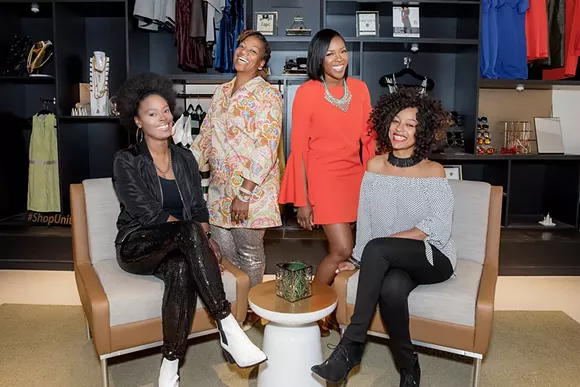 Iconic fashion designer Coco Chanel once said, "Before you leave the house, look in the mirror and take at least one thing off." Deidra Hogue respectfully disagrees with that rule.
The Traveling Pants Company owner stacks her wrists with colorful bracelets, piles on bold necklaces, and sports dangly earrings and cat-eye sunglasses you'll swoon over. She has to model her stock after all.
A financial analyst by day, Hogue started her journey as a boutique owner by retrofitting an old FedEx truck to become a mobile boutique. She parked it at Eastern Market on Sunday afternoons and folks could stop in to try on any of the affordable fashions found therein.
Now, Hogue is doing something a little bit different. Along with three other local boutique owners, she's operating out of a shared space building called the North End Collective on Woodward Avenue at the border of Midtown and New Center.
The space is curated by Midtown Inc., a nonprofit that works to build up the neighborhood by providing opportunities for business owners, but the women of North End Collective — Hogue, along with Jordette Singleton of UnitedFront, Brittany Chanel of Purple Love, and Shannon Reaves of Bath Savvy Naturals — do the rest.
Each of the businesses has been operating in some form prior to joining the collective. UnitedFront operated as an online retailer. Purple Love was part of the short-lived Joyride collective on Cass Corridor in Midtown. You already know the story of the Traveling Pants.
Reaves is the only member of the group to not hold down a traditional full-time gig — Bath Savvy Naturals made the jump from side hustle to Reaves' livelihood after she was laid off. With renewed focus on her soap-making endeavors, she saw her business grow and grow. Now, she sells her wares here and at Rust Belt Market, and because of her open availability, she's often the face that welcomes shoppers to North End Collective.
Painted black with white lettering that simply reads, "North End Collective," the building in which these vibrant boutiques are housed looks minimal at best. It's located across the street from the newly opened Atomic Chicken, but the block has seen better days. The Fisher Building is just a few streets away in a neighborhood that seems poised to pop any day now, but still lacks the vibrancy of communities like Midtown. Yet, inside the boutique, shoppers are transported to the likes of Rodeo Drive or Soho. The build-out is modern, but still cozy. The boutique spaces flow together without feeling crowded or confusing.
The space's cohesion only works because the boutiques compliment one another so well. Purple Love sells handmade and hand-selected jewelry — bold necklaces, trendy chokers, statement rings, and bangles. UnitedFront purveys fashion-forward dresses and separates in bright colors and unique materials like soft vegan leather. At Traveling Pants the clothing options are more flamboyant (Hogue's joyful love of fashion is so evident in her stock), and her accessories reflect her eternal youth. Reaves' stock of handmade soaps, bath bombs, and body scrubs offer a redolent break from the garments and adornments.
But there's a reason why this shop is experiencing great success, and it's not just the unique and affordable stock — it's the women, their undeniable chemistry, and their ability to create a no-pressure environment.
Augmented by candles, free coffee and hot tea, and a surge of positive energy, the ambience invites visitors to take their time while browsing the store, without the tension that often comes with shopping at a small business. There's a feeling of community here.
Community creation is a goal at North End Collective. The women host events that welcome locals to learn about fashion styling, dating, and other topics relevant to young people making it in the city. The best part is they are engaging people in their neighborhood, not just suburban millennials who recently moved to the city for a more "authentic experience" (although that set is just as welcome here too).
The amalgamation of these elements is an indisputable recipe for success.
North End Collective is located at 6513 Woodward Ave., Detroit.