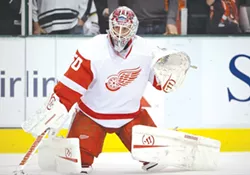 In preparation for a final shootout attempt, Mighty Ducks Coach Gordon Bombay sat in front of his captain Charlie Conway and told him: "One, two, three, triple deke." His advice for Conway to score (albeit fictional) worked wonders over the years (really, over the three Mighty Ducks movies a la 1992,'94 and '96).
Which brings us to today. Unfortunately, we don't live in a fictional world where underdogs (the Ducks) win every game and triple deke can't be stopped. But we do live in a world where the Red Wings might need to conjure up the famed, fictional Bombay for advice on how to score in a shootout.
Currently, Detroit sits tied for third in the Eastern Conference, but they're by far the conference's — and probably the league's — worst team in shootouts.
And it's not like they've lost a few and won a few, and other teams are just as good. The Red Wings' shootout ability is like watching a blind man trying to pin the tail on a donkey. They're 0-6 on the year when the game has gone into a shootout … Yikes!
The problem isn't goaltending — both Jimmy Howard and Jonas Gustavsson have done more than enough to give Detroit a chance at victory between the pipes. It's an issue with the scorers.
And what's really baffling is how talented the Red Wings are, yet how bad they are during a shootout. Though it sounds ridiculous, and I'm sure somebody much smarter than me has thought of this, maybe they just need more practice.
This team is filled with guys who, on paper, should be excellent during a shootout. When you've got guys like Pavel Datsyuk with dangle abilities filthier than a high school locker room, scoring on a one-on-one shouldn't be an issue.
Instead, it looks like amateur hour on the ice. The shooters tend to take an awkward approach, looking as if they don't really have a plan beforehand, and then they just try to jam the puck past the goalie like it's their first time.
I'm not a good skater, but I'd like to think I know a little something about hockey. I mean, hell, I've watched Chuck Conway triple deke his way to a Mighty Ducks' championship too many times, and I've played my fair share of NHL on Xbox. While the triple deke may be better suited to fiction, at this point, I think some of the Wings' players might be that desperate.
If you're going to take the wildcard, unplanned approach — which it seems like half the Wings are doing — you need to have extensive practice so doing it comes naturally. For example, during a Michigan hockey victory a year ago, then-senior Kevin Lynch scored on a breakaway goal. He used a pretty filthy move to get it past the opposing goalie, but when asked what he'd done, he laughingly said, "Oh, I blacked out."
Literally blacking out probably isn't ideal, but his point was simple: let your muscle memory and hockey instincts take over. That's what these Red Wings players have lost sight of.
A lot of them have been playing hockey for too many years to count, so a breakaway, shootout attempt should be like riding a bike. It should be natural for them, not something forced and awkward.
Shootouts aren't the most important aspect of the game — they rarely occur. But think about this: the Red Wings have lost all six shootouts they've been in — losing six potential points.
If they'd won all six, they'd currently be sitting in second place in the conference, just a point shy of the Boston Bruins. Maybe the Wings need to spend more time at practice, maybe do some visualization, or maybe just pick up a few moves from Bombay and Conway … who knows?
These embarrassing shootout losses have gone on far too long already. If worst comes to worst, and Joshua Jackson (the actor who played Conway) might be available — I say, sign him up. mt