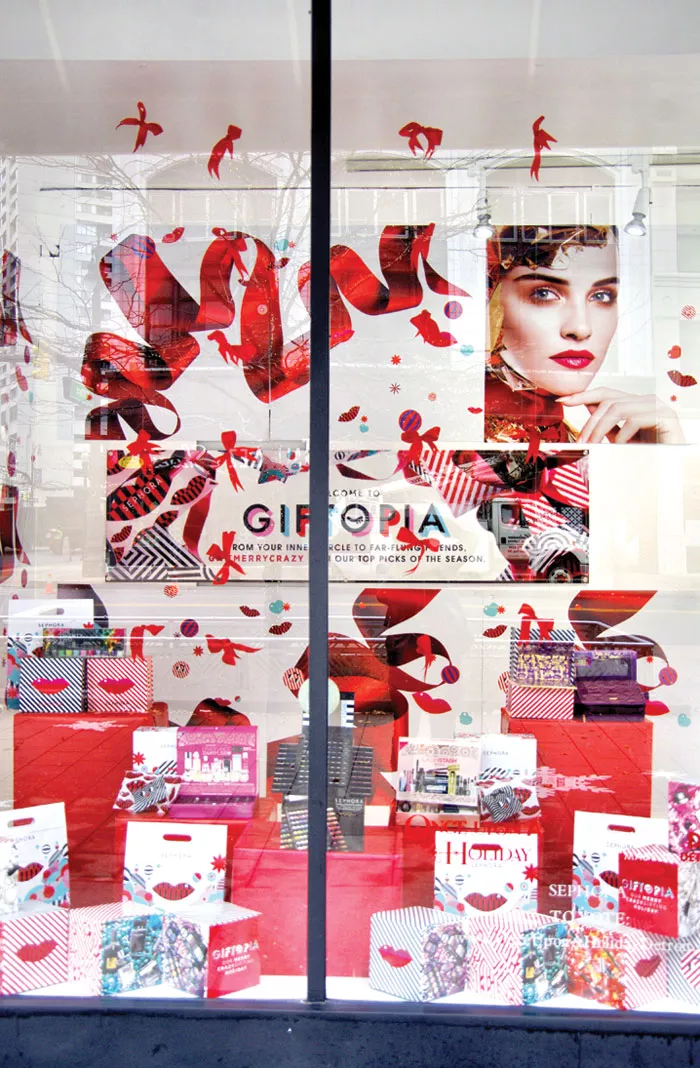 In a campaign to reanimate Woodward Avenue as a thriving retail destination, the Somerset Collection last year teamed with Bedrock Real Estate and Quicken Loans to light up Woodward's 1200 block. When the lights went on, the group realized that the empty windows along the avenue offered a golden opportunity to bring back the old feeling of strolling down Woodward Avenue at holiday time.
This year, volunteers from Bedrock and Quicken cleaned and prepared the windows, expanding into spaces in the 1200, 1400 and 1500 blocks, and merchants from 17 Somerset Collection retailers filled them with holiday cheer.
Somerset's effort to bring holiday retail back to Woodward Avenue started with a City Loft pop-up holiday shop three years ago, and the holiday pop-up Detroit Shop, a 501(c)(3) that carries products representing athletic, arts and cultural institutions and individuals of Detroit. Proceeds are contributed to non-profits.
According to Linda McIntosh of the Somerset Collection, "The Detroit Shop was our inspiration to continue our story on Woodward Avenue. It was embraced. The story of retail on Woodward Avenue was embraced."
During the week spent prepping and decorating, "it was almost like a group working together on a community project, says McIntosh. "No one felt like it was work, because everyone enjoyed every minute of it."
Blayne Brocker, creative director and designer of Studio B Detroit, worked with Pottery Barn and Pottery Barn Kids to create a window that represents both brands with the theme "All is calm. All is bright." The idea is represented on one side with a cozy Pottery Barn Kids bed with a mannequin reading in it, and on the other by a festive kitchen scene.
Brocker said that he really enjoyed watching the other teams create their windows, and that one of the highlights was watching the team that created the Origins window celebrate when they were done. "It was so fun to see them squealing with delight," said Brocker. "Just to be able to see the city and the life that's come back to the city is a fun experience."
Merchants with windows include Eddie Bauer, Brooks Brothers, Gap, Kiehl's, Swarovski, L'Occitane, For All Mankind, White House | Black Market, Sephora, Paradise Pen, Origins, Lego, Michael Kors, Claire's, Williams-Sonoma, Pottery Barn/Pottery Barn Kids.
"One of the things that everyone remembers from their childhood was looking at holiday windows," says McIntosh. "If you walk down the street now at night, you kind of feel like you did in the '70s. Woodward looks amazing."
McIntosh encourages people to come to see the windows, and to make a day of it. "Spend a little time in Cadillac Square. There are merchants and food, definitely a lot of excitement."
Bedrock and Somerset Collection are sponsoring a contest to let the community pick the winning window. Votes can be cast at onceuponaholidaydetroit.com.
The prize is a $5,000 donation to a local charity or local affiliate of a national charity. Some of the charities that stand to benefit from the contest are Toys for Tots, St. Jude's Hospital, and S.A.Y. Detroit. The first 1,000 voters get a coupon for a free cupcake at Just Baked.
Voting concludes on December 20. The window displays will remain up until January 6.
McIntosh is enthused about the windows on Woodward. "Our Claire's manager did a really fun, funky window. You want to jump right into the Pottery Barn window. I wish I could live there. The Eddie Bauer with mountain climbers is really fun. Williams-Sonoma, you want to eat everything. I love them all.
Next year we'll have even more," she promises, "and they'll be even more extravagant."