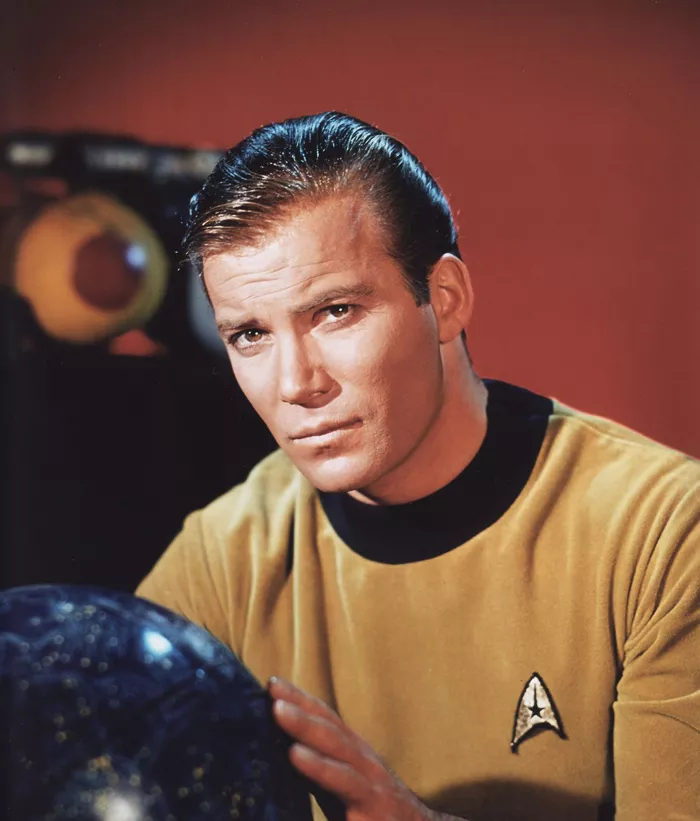 Like many Canadians of his era, when William Shatner was a younger man, graduating from McGill University in his hometown of Montreal and starting his acting career at the Canadian National Repertory Theatre, we looked pretty good to him. "Having been to Windsor, I looked with great awe and wonder across the river at Detroit," he recalls by phone from Hollywood. "I've been to Detroit when it was up and when it was down, and now that it's coming back up I'm coming to Detroit more often."
Like this weekend, for example. Shatner, whose half-century as a global pop culture legend will forever be dominated by a sci-fi character he played on TV from 1966 to 1969, is the featured attraction as the Motor City Comic Con marks its 25th anniversary Friday through Sunday at the Suburban Collection Showplace in Novi. This will be Captain James Tiberius Kirk's first appearance at Detroit's comic convention.
Shatner claims he only does "one or two" such groupie gatherings a year, so it clearly was a case of serendipity that brought him to our Comic Con's silver celebration. "We actually were looking at booking William last year, but [he] had already committed to another convention," says MCCC founder and convention promoter Michael Goldman. For his part, Shatner, who wrote a book and produced a documentary on the Trekkie phenomenon — both called Get a Life! — has developed some theories on Star Trek fanaticism after years on the other side of the autograph table.
"In the book I made the observation, finally, that they come to see each other," he suggests. "We are there merely as an object to be discussed among themselves. But then when I did the film documentary, I came to a much larger, deeper conclusion: It's mythological. They are there as part of a mythology seeking to explain those unknown things out there in space. It's far more far-reaching, in a more spiritual way, than even the audience itself understands, at least most of them. And I probably represent one of the heroes."
Even NASA might agree with that self-assessment. Earlier this month, America's space agency presented Shatner with its highest civilian honor, the Distinguished Public Service medal, for his "outstanding generosity and dedication to inspiring new generations of explorers around the world."
"My connection with NASA has been over many years, starting with that science fiction show on the air," says Shatner. "Star Trek brought space to the attention of the audience and they became intrigued. NASA felt that we were good publicity, so they were very kind to us. And it turned out that when their rockets flew, our ratings went up, and when our ratings went up, they got more money from Congress. So everybody was happy."
Admitting "I feel unworthy about the award," Shatner, who's also been an active participant in NASA's children's program engaging kids about the wonders of science and space, jokes that his acceptance speech consisted of "only a brief guttural sound. Like 'grrumph.' Maybe followed by an 'ooooh.' Look, you can have communication on many levels."
A lively, entertaining conversationalist, the 83-year-old actor is communicating on more levels than most people half his age. His one-man show, Shatner's World: We Just Live In It, completed a successful three-week run on Broadway, was filmed for a one-night screening last month in select theaters nationwide, and has been on tour since 2012. From June 19-21, he'll unpack his thoughts onstage at the MGM Grand in Las Vegas. "So along with everything else, I'm playing Vegas," he says. "The show encompasses a lot of emotions. I get to talk about a lot of subjects, from gorillas to motorcycles, love and death and music. So if there are any fans who want to enjoy Las Vegas and see me live, I promise them that whatever they do will stay in Vegas."
A passionate equestrian, Shatner is amassing a string of victories in reining competitions in California. He's designing watches and motorcycles. He's developing television series; this week Shatner inked a development deal with the Internet TV network Ora.TV and gave them his Web series, Brown Bag Wine Tasting. He's filming a new movie next month. He's still the Priceline Negotiator. He's built up such a wellspring of trust with the public that they will even forgive the occasional misstep, like the woeful CBS sitcom $#*! My Dad Says three years ago. "I'm running as fast as I can, and you're not to ask me why because I have no answer for that," he says with a laugh.
To define and explain his current mindset for others in his age range, on top of everything else, he's writing a new book. "It's called Hire Yourself, which approaches the over-55 group that I have now joined, reluctantly," he says. "That group is not being hired with the same frequency that the under-55 group is because they want more money, but of course they have so much more to offer. So I'm projecting a solution to being unemployed with a thesis of hiring yourself, and showing them how to do that."
That over-55 set can be cagey, however, and Shatner may have a trick in store for overzealous Trekheads who want to discuss specific moments from the series or its seven spinoff motion pictures from decades past. "I start inventing lines for them," he says. "They'll say, 'I don't remember that.' And I say, 'Oh, yeah. You seem to have forgotten what I said when I met the Klingons head-on."
William Shatner will appear at the 25th anniversary Motor City Comic Con for autograph signing 4-7 p.m. and a meet-and-greet event 8 p.m. on Friday, May 16, as well as for more autographs 10 a.m.-6 p.m. Saturday, May 17. Buy event tickets and VIP passes to see Shatner at motorcitycomiccon.com.