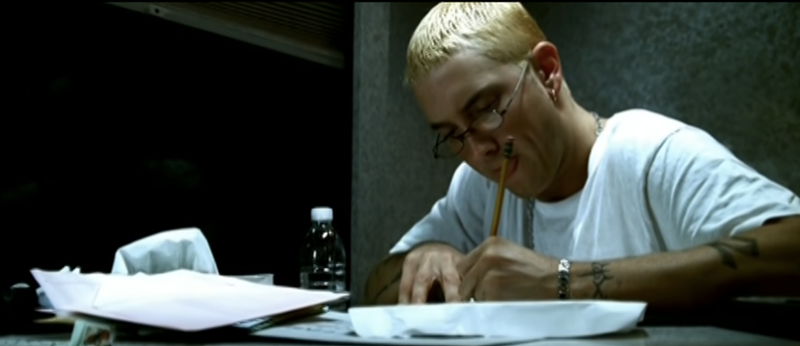 Queue up some
Dido
, Eminem has a stan in Merriam-Webster's dictionary. Well, sort of.
Not only did Detroit's
Slim Shady celebrate 11 years of sobriety
this week, but he has also, indirectly, been immortalized in the annals of the online word authority. Merriam-Webster's dictionary on Tuesday announced the
addition of 640 new words
.
While the word "stan" has been a fixture in the cultural lexicon, it now has an official definition: an overzealous or obsessive fan of a particular celebrity. To use it in a sentence, Merriam-Webster provides the following example: "He has millions of stans who are obsessed with him and call him a rap god." The word can also be used as a verb, as in, "Y'all know I stan for Katy Perry, so I was excited to see the artwork for her upcoming album."
For the lesser initiated stans, the word originates from Eminem's 2000 tragic pen-pal meta ballad "Stan," during which an obsessed fan named Stan makes countless attempts to make contact with Em in hopes of getting an autograph for his little brother. But before the rapper can respond, fictitious Stan drove off a fictitious bridge with his fictitious pregnant wife in the trunk. Thus, stan was born.
The word stan is in "swole" company, as words garbage time, screen time, gender nonconforming, on-brand, buzzy, unplug, and, yes, swole — as in "extremely muscular" — were among the dictionary's latest additions. A few old words received new meanings, like snowflake, which now is used to describe someone who is overly sensitive, and the word peak, which was metaphorically extended to mean "being at the height of popularity, use, or attention." In other words, "We are experiencing peak stan-dom."
During a
2013 interview with Rolling Stone
, Em was shocked to learn that stan had taken on a life of its own. "Wow, that's crazy. Oh, that's funny," he said.
He added that it's sort of twisted, considering the character Stan was so unhinged.
"Stan's dead!" Em said. "He actually died on that record. But I always had his little brother in the back of my mind. He just needed time to grow up. And come and kill me."
Stay on top of Detroit news and views. Sign up for our weekly issue newsletter delivered each Wednesday.