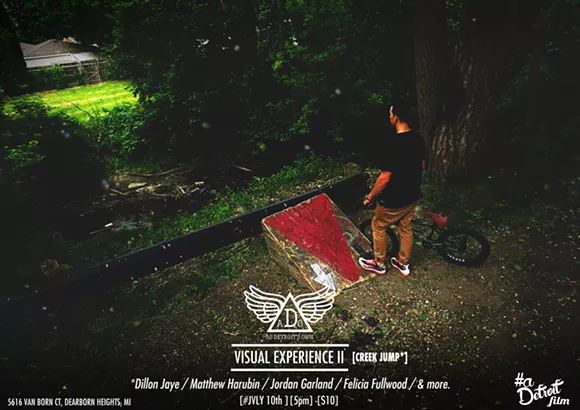 Well, that's the plan for the second AsDetroitsOwn Visual Experience event on Sunday, July 10. We gave you the scoop on the
first event
, and the second installment will follow the same 'live action sports + art show' formula, but this times, it's safe to say the stakes are raised.
Outside Transitions skate shop, where the event is being held, BMX rider Dillon Jaye will attempt to jump over a creek at sundown. We got a hold of the teaser video and by the looks of things, this is going to be pretty intense.
In addition to the creek jump, graffiti artists Rec3 and Phybr will be live painting a car and the buildings walls courtesy of Mid&West art and Transitions Skatepark, and the work of photographers Felicia Fullwood, Nick Lang, painter Matthew Harubin, and Jordan Garland, creator of #aDetroitFilm, will be on display.
Get more information and RSVP on the
Facebook event page
and take a look at photos from the first event.
Don't miss this shit. Seriously.