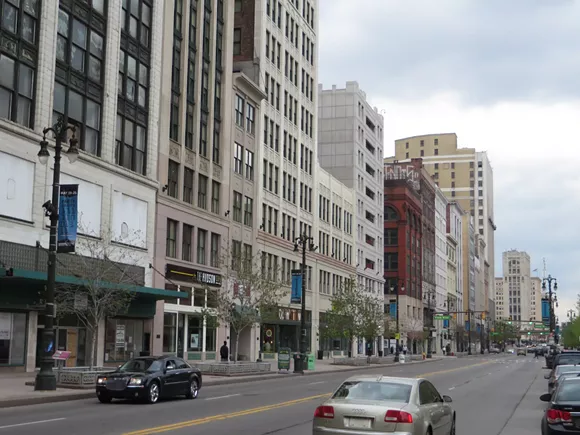 This week, Spanish "fast fashion" retailer Zara
announced
it would make its Michigan debut at Somerset Collection in 2017.
And with it, a collective hooray could be felt among many of my friends. It's a similar excitement when any major chain clothing store or restaurant comes to the area. Like finally, we don't have drive to (fill in the blank cosmopolitan city) to get the trendy shit everyone's been talking about.
For those of you unfamiliar with Zara, it's a fashion retailer with more than 2,000 locations across the globe, that caters to women, men, and children and is known for churning out runway looks for not a whole lot of money. It's like an H&M or Forever 21 in that it gets new looks shipped every few weeks, but is more stylish.
The closest locations to metro Detroit are in Chicago or suburban Cleveland.
First thing I thought though when I heard the news: OK, great, but why isn't it coming to downtown? Then to my next question, how come there aren't any similar options for women downtown?
We've begun to see some momentum in the past few years with the series of Somerset popups during the holidays, and the additions of Moosejaw, a Nike Community Store, and the high end John Varvatos and Kit & Ace stores.
All these developments are awesome, but still. What about the busy working women downtown, who want somewhat affordable fashion options? What of those last-minute plans to meet for drinks Wright & Company? Or when you spill coffee on your blouse and somehow buying a Detroit Hustles Harder T-shirt just doesn't seem appropriate for that important afternoon meeting.
To answer these questions, I turned to Justin Robinson, VP of business attraction at the Detroit Regional Chamber.
He points to a number of obstacles such of lack of commercial density or viable retail space that are keeping the Zaras, Top Shops, Sephoras, or H&M's from joining in downtown's revival.
True, we Detroiters have seen downtown change in leaps and bounds, but for a big box retailer to hedge its bets, it needs other similar businesses to accompany it. Think about it, when you go shopping, you typically browse around the different shops and boutiques before circling back to that first store to make a puchase.
We just don't have that downtown yet.
To get there, we need to start seeing smaller, more localized boutiques taking the plunge. Awesome, I can think of many local businesses that would benefit from the district's abundance of foot traffic. Problem is, why would an independent business owner invest hundreds of thousands of dollars and more than a year to renovate a vacant space?
"I think a lot of people are still timid, when they're looking in from the outside," Robinson says.
The good news, says Robinson, is we're not too far away from a boom in retail downtown.
Small pockets already exist in Midtown, such as on Canfield, where Shinola, Third Man Records, City Bird, and others. The area started to pick up momentum by offering a different type of retail - small home furnishings - to welcome the many new residents moving into town.
So if we're seeing this sort of traction elsewhere, does that mean affordable fashion is soon to come to downtown?
Robinson says the area surrounding Little Caesars Arena will help drum up momentum, as will Dan Gilbert's housing
development
in Brush Park.
Give it another two to three years, and another 50 new retailers at least should arrive in the central business district.
"We're really close to a tipping point on this," Robinson says.