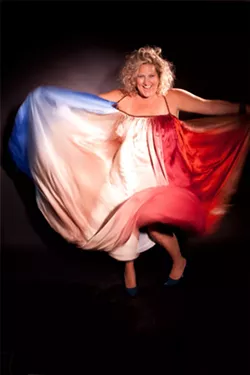 The last time comedian and actress Bridget Everett performed in metro Detroit was just less than a year ago — more specifically, it was three days after the 2016 election.
For many Americans who voted for Hillary Clinton, the idea of laughing at a stand-up comedian after losing such a devastating election didn't sound like so much fun. For Bridget Everett, the idea of even performing was daunting, too.
"I remember landing in Milwaukee and saw someone wearing a "Trump That Bitch" T-shirt and it just felt like, "Oh my God, here we are, this is happening," Everett tells us by phone. "I had comedian Murray Hill with me on that tour and we just thought like, 'How the fuck are we going to do this?' But thank God we did. Murray and I needed each other, and we needed the audience to lift us up, too. I felt like we gave them a reason to let go and the audience gave me a reason to let go."
While Everett still gets upset from time to time that Trump is our president ("It's like a sea of fucking horrors!" she tells us) 2017 has been quite the year for the underground New York City cabaret singer. In just the past couple of months the 45-year-old has starred in two Sundance Film Festival entries (one of which was Patti Cake$, which left her with rave reviews), had a memorable appearance on The Tonight Show, and will soon release the pilot for an Amazon TV show that she co-wrote alongside Sex and the City writer and director Michael Patrick King.
It's safe to say that Bridget Everett is having a moment.
We caught up with the cabaret-singing comedian to discuss her big year, why she's touring again, and her adorable dog Poppy that is the new star of her Instagram feed.
Metro Times: First of all, congrats on all of the success with the films Patti Cake$ and Fun Mom Dinner. Was acting always going to be the next step for you as a performer?
Bridget Everett: Yeah, I would say so. I've been doing sketches with Amy Schumer for Inside Amy Schumer and I had a part in Trainwreck, but taking the role in Patti Cake$ was a pretty big deal for me. I almost didn't do it.
MT: Why not?
Everett: I almost didn't do it because I was so scared of trying something different and that was outside of my wheelhouse. I mean, it's sort of crazy to think that someone who motorboats people for a living is scared of taking a movie role [laughs] but I met with the director Geremy Jasper and I really felt safe with him.
MT: Was there anything in particular that gave you the final push to say, "Yes?"
Everett: After Geremy talked to me it just felt like the right time to take a risk. And I related so much to my character, "Barb." It honestly changed my life.
MT: Has this new sudden fame been crazy? I saw you on Today with Kathie Lee and Hoda when you were promoting your movie and it was so funny. Does it ever not feel real?
Everett: That was totally one of those moments in your life when you're outside of yourself and your body. Now that I've been doing stuff like the Today show and The Tonight Show it's just insane to imagine I was putting on an apron and clogs for 25 years and then a few years later I'm drinking wine with Kathie Lee and Hoda and I'm like, "Whaaaat?" Even starring in a movie with Molly Shannon is like, "Whaaaat?" [Laughs.]
MT: God, I love Molly Shannon
Everett: Molly Shannon is an angel on Earth.
MT: Speaking of your serving days, how long ago did you quit waiting tables?
Everett: I think it was like two or three years ago now. It was a long time coming. The minute I quit I felt a million times lighter and happier. I think everyone can relate to doing something to sustain yourself so you can fulfill your dreams. Mine just happened later in life.
MT: What is your advice to those working day jobs that are still trying to make it big?
Everett: I was told a long time ago to never say no to a job offer. I almost didn't say no to anything for almost 10 years. I just showed up to benefits and open mics and got better and better. But I also think that you need to let yourself off the hook if you're doing something and you're not happy with the result... If you're doing the thing you love, it's gonna come to you, it might just take a minute.
MT: Is that why you use LL Cool J's "DDHD" as your motto?
Everett: [Laughs] Yes! Dreams don't have deadlines, baby. It's so funny because I keep trying to come up with something better. At first I was like, "Oh Jesus Christ, I'm quoting LL Cool J," but then I was like, "No, that's pretty fucking awesome."
MT: Also, I love your dog, Poppy. Every time she pops up on your Instagram my heart just explodes.
Everett: Poppy is sitting on me right now!
MT: What made you decide to get a dog?
Everett: I'll tell you I almost got rid of her when she was a puppy because it was so overwhelming. But thank God I didn't. Right now Poppy is asleep facing away from me but she has to have something touching me, so right now her hind legs are extended so she's touching me.
MT: That is so adorable.
Everett: The way that she has changed me as a performer and as a person is night and day. I feel completely open to love in a new kind of way and it makes me a better performer, I swear. She's my little Poppy angel.
MT: Does she ever go on tour with you?
Everett: Sometimes, and when she does I sing her this little song. Most of the time, though, my friends at Joe's Pub in New York look after her.
MT: Since you've been doing so much acting lately does it feel different when you return to your live show?
Everett: Well every live show is different. Because I've been doing other things like the Amazon pilot and the movies, it felt like I was sleeping with the other woman and I was cheating on my wife. Now that I'm going back to the shows for a bit I just have a new appreciation for it. I feel even more alive doing it now which I didn't think was even possible.
MT: Are the audiences different from the NYC crowd?
Everett: Well I've been doing my show in New York for over 10 years now so those shows are just so comfortable because I'm there all the time. When I'm on the road it feels like a first date because the crowd is experiencing me new for the first time. It kind of reminds me of like a rock show once I get everyone comfortable and into it, chanting the lyrics to the songs. It's like a party. MT: When is the Amazon pilot coming out?
Everett: It comes out Nov. 10. It's called Love You More and I wrote it with Michael Patrick King from Sex and the City and Bobcat Goldthwait and I'm just so proud of it.
MT: What's the difference when you write for a TV show?
Everett: It's a different kind of personal. Working on this TV show I had to collaborate with two other people to come up with a cohesive project. If this pilot gets picked up it can actually sustain a life and go on and tell a story, and a different side of me that audiences haven't really seen yet. When I do my live show I write the lyrics and do the songs myself. I'm in charge of the ship and I can do whatever the fuck I want.
Starts at 8 p.m. on Friday, Oct. 20 at the Andiamo Celebrity Showroom, 7096 E. 14 Mile Rd., Warren; 586-268-3200; andiamoitalia.com/showroom; Tickets range from $25-$55.