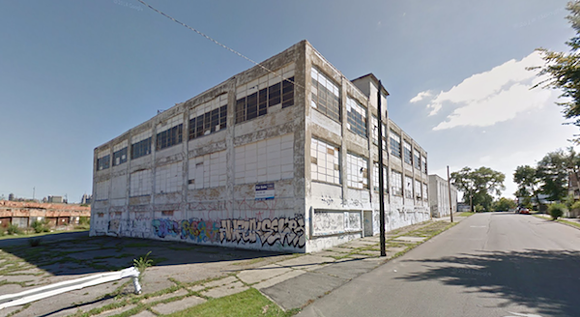 Talk about turning up the PR savvy. Take a look at the latest from the man from Galapagos, Robert Elmes. You may recall that Elmes came to Michigan in 2012 and was given a
whirlwind investor's tour
. He met with Dan Gilbert and Gov. Rick Snyder. He soon acquired nine properties in Highland Park and Detroit for what he called "less than a small apartment in New York."
At the time, Elmes was mocked by more than a few Detroit artists, who
laughed at some of his catchphrases
, including his line that you can't "paint in your kitchen at night and hope to be a good artist." (Detroit's homegrown Cass Corridor art movement would seem to suggest otherwise.) At the time, Elmes and Galapagos took the roasting with some grace, and even aired their disagreements in comments to articles that gave him a ribbing.
Then, in January of this year, we heard news that Elmes had listed a Corktown building he bought for $700,000 for a whopping $6.25 million.
We weren't alone in feeling played
; even Detroit's
Huffington Post
had a few tart words for the art space company.
Elmes was on the defensive
, saying he only needed the money because he couldn't fund all his acquisitions and was taking care of a toddler who had been diagnosed with leukemia.
What a change less than six months makes. Instead of a buyer selling a building due to dire circumstances, he has big plans to welcome everybody from artists to yoga teachers into the building.
John Gallagher has the story
. In case you've been hiding out in a basement for 30 years, Gallagher is the dean of Detroit architecture writers. As a
Free Press
reporter, he is also generally available to let Detroit's misunderstood rentier class tell their side of the story. Apparently, that story is that plans have changed: Now the building will be kept in Elmes' portfolio, and
he'll court renters with the promise of a payout down the line when the building is finally sold.
Somewhere, unseen, there appears to be the deft hand of a PR professional.
But we're left wondering: What happened to Elmes' money crunch? How did he find the wherewithal to take care of a half-dozen buildings?
And what sort of art activities does Elmes have planned for the Corktown space? Elmes suggested not just artist studios, but yoga studios, indoor agriculture, music stores, a salon, test kitchens, a dressmaker, a ceramicist, a bike store, or a micro-manufacturer.
In other words, Elmes wants 200 start-up businesses to fill up his building, pay him rent, and at the end of 10 years, he swears they'll
get 20 percent of the building's increase in value
, according to the
Free Press
article. Just take it on trust, like everything that came before.
Gee, that's a swell promise, Mr. Art Space Man.
In other words, you hardscrabble aspiring crafters get to take a gamble on running your business inside Elmes' building. If you can tough it out for 10 years, you get 20 percent of the increase, divided by 200, with the agreed-upon price of today set by your landlord. Who knows what that could be?
Perhaps just enough to silence critics and help a fledgling real estate portfolio take off.
After all, isn't that what the art business is all about?