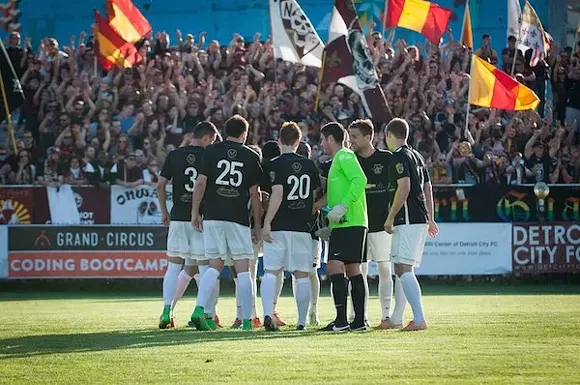 Friday opens a new era for Detroit City Futbol Club fans, with the first game at Hamtramck's 80-year-old Keyworth Stadium. The stadium is fresh off a crowdfunded renovation that cost at least three-quarters of a million dollars. All the finishing touches have been added to Keyworth. It's now wheelchair-accessible, with beer tents, food trucks, rest rooms, and more. (Bringing cash is an excellent idea.) The first home game there begins at 7:30 p.m. Friday, May 20, when Le Rouge squares off against AFC Ann Arbor.
If you don't know Hamtramck, Keyworth Stadium is nestled against the railroad tracks on the south side, roughly between the baseball diamond off Conant and Veteran's Park, accessible from Joseph Campau. But the field's west entrance is actually at the end of Roosevelt Street. They will have ticketing on game day, two hours before the game begins, which is one popular way to buy a ticket to a single match. It's also possible, and preferred, that attendees buy tickets in advance, to help keep lines short.
Buy them by clicking here
.
Now, this all happens tucked away in the neighborhood, some distance away from the city's main roads and parking areas. It's worth noting that, um, Hamtramck residents can be a bit … proprietary about their parking spots. For this reason, it could be a good idea to use the special lots off Dan Street or by the Fowling Warehouse off Christopher Street.
See the maps for details
.
Corktown fans can avoid driving altogether by taking the shuttle from McShane's Pub at Trumbull and Michigan avenues. Free to customers (that means you have to buy something, or pay the $10 to park in their secure lots on Elizabeth and Plum), the shuttle is scheduled to make at least two trips before the game, and will return about a half-hour after the game to load up and return passengers, and will run to Keyworth at least twice.
There will also be a bicycle valet service operated by Wheelhouse Detroit, which will be opening a second location on Joseph Campau in Hamtramck soon. Wheelhouse's Kelli Kavanaugh says, "We provide complimentary bike parking for DCFC matches, and have done so since Day One! You ride, we park it and watch it." This is a great idea, because Hamtramck is Michigan's densest city, which means anything to take one more car off the street will only help Keyworth be a success. For more information, call Wheelhouse at 313-656-2453.