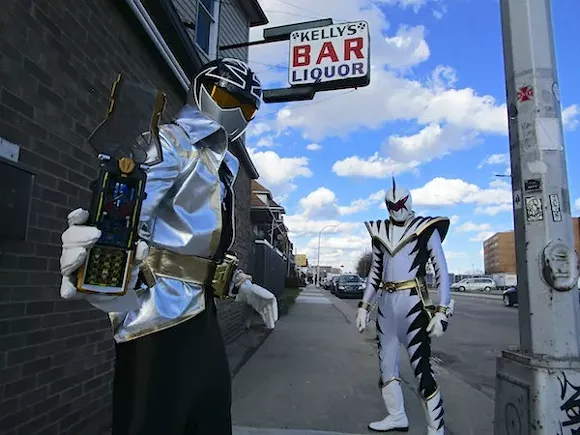 A month ago,
an alert citizen named Kris Luzinski snapped a photograph in Hamtramck that got our attention
: It was a blue power ranger standing in front of PNC Bank at Caniff and Joseph Campau. Yes, looking as if he were straight from the 1990s TV series
Mighty Morphin Power Rangers
. It's the kind of thing that you throw out there on a Monday afternoon and it quickly earns 2,000 likes.
But, you know, being a bastion of serious journalism, we had to dig a little deeper. It took us some time, but we were finally able to track down William Berry and Joseph Brooks, both 25, of Hamtramck. They agree to meet with us. And when they finally walk into Café 1923 to meet us, all eyes are fastened on them and their getups. And everybody's all smiles.
Taking a seat in the back, the guys doff their helmets and field some questions. Turns out the answers are quite simple: They love science fiction, martial arts, comics, and dressing up. And in the Power Rangers universe, they've found the perfect way to express all that affection. Brooks, who usually wears a blue power ranger outfit, arrives today dressed as Dino Thunder, the White Dino Ranger. William Berry, who usually wears a red power ranger suit, is dressed as a silver power ranger.
"Everybody loves Power Rangers," Brooks says. "Everybody knows Power Rangers when they see them."
He's absolutely right. In fact, right now, the staff of the coffee shop is interrupting our interview to ask for some photos with the guys. They don their helmets and pose for a few snapshots. Everybody involved is totally delighted by this rare photo opportunity.
There's something familiar and appealing about seeing a power ranger in public. Sure, everybody likes power rangers. But these guys
really
like power rangers: They're superfans. They can trace the series all the way to its beginnings, through a long-running Japanese television franchise, and its origins are a long, long way from Angel Grove High School.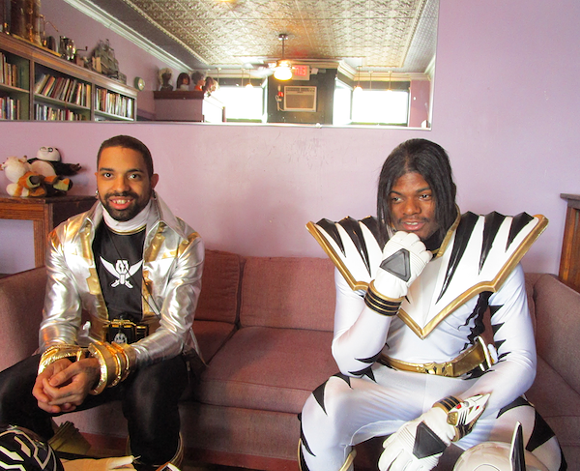 The casual MMPR viewer may know that much of the footage was lifted from a Japanese television show. But perhaps only a handful know that it's all part of a Super Sentai series of TV shows that started with
Himitsu Sentai Gorenger
in the mid-1970s. "Basically, they were kung-fu films," Berry says, "but with people dressing up in costumes."
And they weren't necessarily the high-key, squeaky-clean kids' stuff that took America by storm in 1993. The old TV shows have what Berry calls "a lot of dark stuff. They left out a lot. Power Rangers is great, I'm glad people know about it, but you should take the time to check out Super Sentai: It wasn't for kids."
This is precisely the kind of deep dive into an entertainment property that produces cosplay fans. They are a community of people who often pursue their fandom to a degree others wouldn't, and they do it together. For instance, Berry and Brooks are roommates. They attend comics conventions and other fan events where they meet like-minded people. Together, they're able to share their affection for a sci-fi franchise in a party atmosphere.
Brooks says, "We've met so many people that have had the same love and affection for the Power Rangers. We've made so many friends along the way. We've run into so many people who love Power Rangers just as much as we do."
It isn't an easy task. They had to try to figure out how to get real power rangers outfits, combing listings online, and blowing a couple hundred bucks on a coveted one. "I used to buy everything," Berry says. "But I'm slowly but surely learning how to make stuff. I made these cuffs. My girlfriend's teaching me, helping me out learning how to sew, and how to do arts and crafts."
Conventions are also a great place for fans to continue learning, trading information on costume-makers with one another. "Every new person you meet is a new experience," Brooks says. He compares meeting a knowledgeable bunch of Power Rangers fans to "leveling up."
And conventions are where the real action is, where Berry and Brooks clamor for autographs or for photos posing with the stars. And perhaps no ranger is more sought-after than Walter Emanuel Jones, who played Zack, the original black power ranger, who also happens to have been born in Detroit. Berry and Brooks were lucky enough to have a picture taken with Jones at a comics convention, and were equally lucky to get out of the crush of fans surging toward Jones.
But part of the fun of cosplay is the way you don't have to be a star to be part of the spectacle: Teaming up with other rangers always causes a scene. "We met other rangers. We met a white ranger, a blue ranger, and we just all kind of hung out and crowded together, and everybody wanted pictures of us. It was awesome!"
What plans do Berry and Brooks have? Ideally, Berry says, they'd like to put together a crew of power rangers. The purpose? To visit children in pediatric wards and use their special superpower: bringing smiles to people's faces.
Stay tuned, kids: We promise to follow their next move. Until then, may the power protect you.