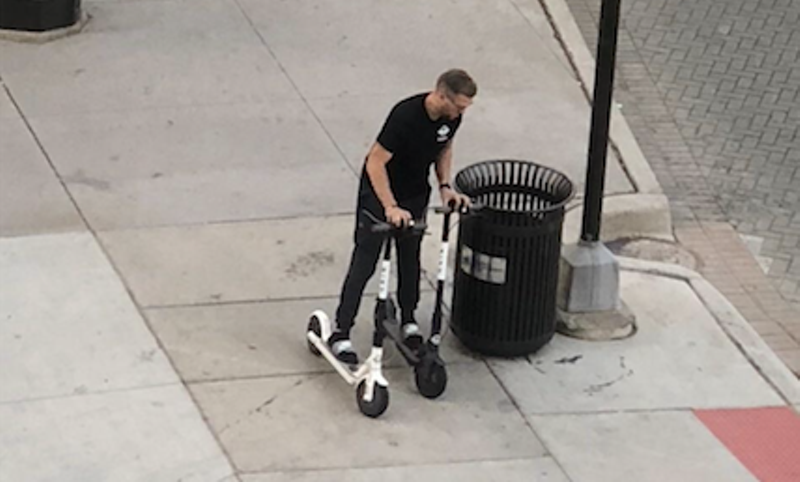 Unless you've been living under a rock, you know that electric scooters are a thing now and Detroit has taken it too damn far.

Earlier this week tech company Lime deployed dozens of scooters on the streets of Detroit in direct competition with billion dollar Santa Monica start-up, Bird, which rolled out their Detroit pilot program in July.

Not only has the trend been knocked down a few pegs on the cool-o-meter thanks to GOP gubernatorial candidate Bill Schutte, who took to Twitter to praise the scooter trend without the required protective headgear, looking every bit like a Steve Buscemi meme. He's not the only one disobeying scooter regulations (hell, even we flirted with danger during our test ride) but this daredevil takes the cake.

Spotted by Reddit user Giudi1md one rider risked it all this morning by riding two Birds at once like goddamn Greek god sporting some futuristic talaria. Where the real mastery comes in is the placement of the accelerator which is located on the right-hand side of the Bird scooter. Who is he?
Naturally, Reddit had comments.

One user informed, "Dudes like this have a 200% chance of stealing your girl" followed by a query,"
Do they steal 2 at a time?"

Someone called out his zen-like approach to getting lucky.

"He's pulling the
ole
yin/yang. To go get some tail, I presume. Noice!"


Another claims that "
This guy's
living in 2032" while another said that this is "gentrification increased."

Of all the unofficial laws this thirsty Evel Knievel is breaking, though, one user was particularly offended by his fashion choice.

"
The real crime here is the socks with sandals."
Several people speculated that this person was merely returning scooters, as Bird pays folks to collect and charge scooters overnight and release them during the early morning hours. Either way, when it comes to this guy, we agree with Reddit user
herzyberg: "Legend."

Stay on top of Detroit news and views. Sign up for our weekly issue newsletter delivered each Wednesday.