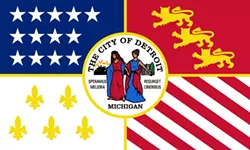 An interesting thread cropped up on Reddit's Detroit board Monday, asking readers to share
their predictions
for metro Detroit in 2016.
Some highlights:
Someone, probably backed with foreign money (Hey Carlos Slim), announces a luxury hi-rise condo development Downtown. My guess is the block bounded by Randolph, Bates, Brush and Fort.
Kmart is spun off of Sears and sold, at an incredibly low price, to a local Detroiter, who puts the HQ back downtown and start the slow renaissance of building that brand back up.
Detroit City Football Club moves into it's new home in Keyworth Stadium, and near the end of 2016, announces that it is moving into the North American Soccer League in 2017, bringing professional soccer back to Detroit.
A Fortune 500 company announces that it is moving it's HQ to Downtown Detroit.
This is the big one....and its timeline extends a little past 2016. As the insurance industry starts assessing buildings based on their potential exposure to rising seas and greater natural disasters, due to long term climate change, companies start looking at the location of their hard assets more closely. Due to its abundant water, relatively mild climate, and low cost of living, the Great Lakes region starts attracting massive investments in hard assets. Factories, data centers, and offices all start popping up all over Michigan, Minnesota, Wisconsin and Northern Illinois. Several high profile companies start to make noise about decamping their headquarters from Miami (due to rising oceans and the inability to insure assets at a reasonable rate), DFW, Houston and Los Angeles (heat and water access and insurance rates). The upper Midwest becomes the boom region of the mid 21st century.
Woodward continues to attract retailers like an (already highly rumored) Apple store.
Major retailer - Costco, Meijer, or Target, etc., announces store w/in walking distance of downtown.
Higher end retailer announces interest in moving downtown (Saks, Nordstrom, etc.)
Most of the posts' suggestions seem to be on the optimistic side of things, which is understandable — Detroit has been down so long that hopefully things can only get better (
Speramus Meliora, Resurget Cineribus
). But it many ways the Reddit list reads more like a list of hopes than safe bets.
What are your predictions for 2016 — the good, the bad, and the ugly?