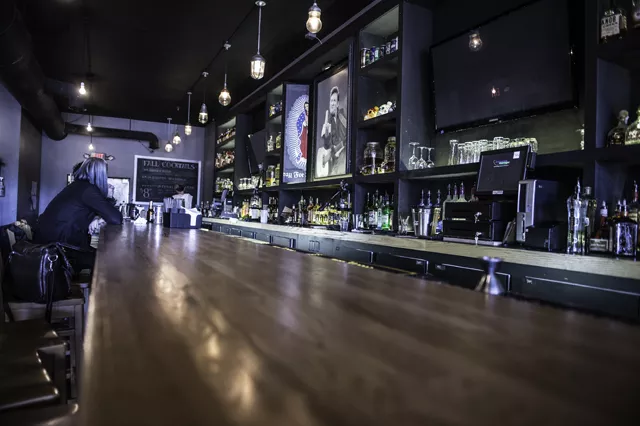 Imperial
22828 Woodward Ave., Ferndale
248-850-8060
Open 11 a.m.- 2 a.m. daily
Probably known more for their L.A. street-style tacos than their drinking game, Ferndale's Imperial is worth a visit this beer season. In keeping with their authentic Baja California influences, you'll find an ample selection of Mexican beer (at least a dozen different cervezas) as well as a large variety of "regular" beers, including domestic and foreign. Their signature beer is the aptly named "Hillbilly Cooler" which consists of your choice of 32-ounce Corona Familiar or a 24-ounce PBR can nestled inside a sturdy brown paper bag filled with ice. Surprisingly, the bag holds up till the last, icy-cold drop. What's more, it's just awesome to drink out of a paper bag in a restaurant. "Clearly, we keep it classy," front-of-house manager Troy Shipman says in agreement.
Besides beer, Imperial features around 15 signature cocktails. Benefiting from a West Coast tendency toward fresh ingredients, Imperial's cocktails are made with only fresh-squeezed juices — limes, lemons, oranges and grapefruits are all juiced daily. Probably the standout guest-favorite is the Ring of Fire. A combination of grapefruit juice (fresh-squeezed, of course), simple syrup and a house-made infusion of habañero-orange tequila, this cocktail is spicy — but as the staff will tell you, it's a refreshing, "chilly heat."
Imperial also features a pretty strong bourbon and tequila selection, with more than nine different bourbons and more tequilas than you'll care to count once you get started.
The bar itself is modern and designy. On weekends, it's packed with a typical Ferndale crowd (a lot of trendy facial hair, a few young families and one or two hip older couples). And you might as well order a taco or two while you're in.  Regardless of your alcohol selection, you should order the tacos al pastor — marinated pork tacos topped with a spicy red chili sauce, grilled pineapple, pickled jalapeño and onions — it's a house favorite and pairs nicely with cerveza, tequila or one of the tangy-sweet cocktails.