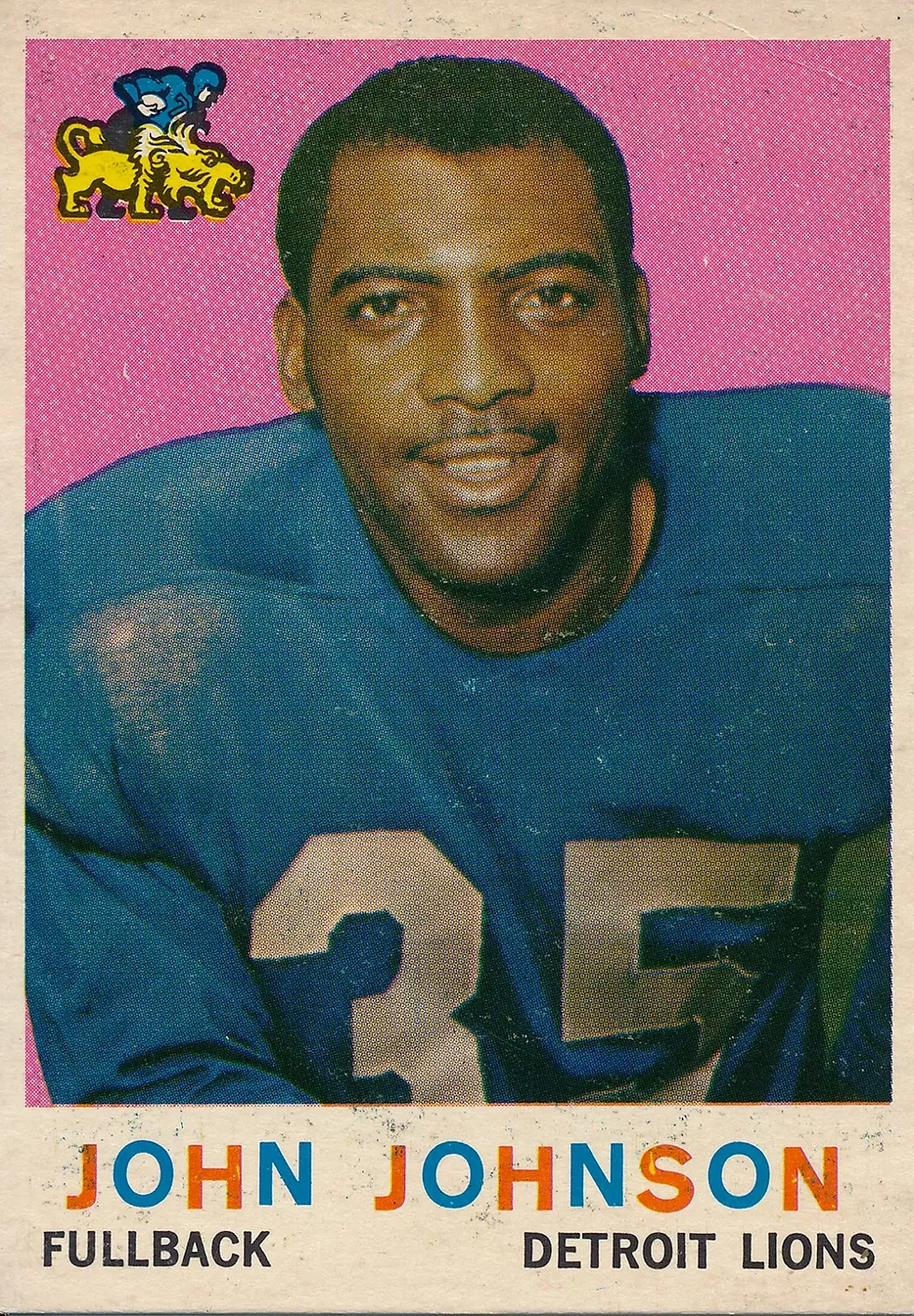 M
any of the top Lions of the 1950s were southern whites, as were several of the coaches. They had grown up in an era of strict segregation, so their attitudes were set early in life and not easily changed. According to Triplett, "the Texans" on the squad were cool to his presence in the locker room, barely acknowledging him, though Doak Walker strived to set the correct tone. Cloyce Box, the proud grandson of a Confederate cavalryman, "was kind of reticent at first," Triplett said. "After he saw how me and Doak got along, things got better." Triplett initially had a small problem with Bobby Layne "saying things out of habit" and dropping the occasional N-bomb in casual conversation, but he considered the quarterback a friend and found him to be an equal-opportunity partier.
During most of his two seasons in Detroit, Triplett lived in a boardinghouse on the near east side. It was a lively and inviting environment for "sports" of all races and tastes. Layne was known to serve as host to visiting Black players. San Francisco end Charlie Powell recalled: "We would just get through playing and either the Lions would whip our butts or we would whip their butts, and he would say, 'Charlie, go get dressed. I'll wait for you outside your dressing room.' He would take me to the nicest clubs in Detroit, and they would roll out the carpet for him." Layne made the rounds of the Flame Show Bar, the Chesterfield Lounge, the Frolic Show Bar, and other jazz venues, "and everybody in those places knew him, too," Powell said.
Fourteen Blacks played in the NFL in 1950, with nine of them suiting up for either Cleveland or Los Angeles. The Browns and Rams met in that year's title game, as well as the next. Such success was not a coincidence, the Black press enjoyed pointing out. By 1952, every team except Washington had fielded at least one Black player since the end of the war, though, collectively, Blacks still constituted only a small fraction of the league's players.
Of those who did play, most were stars. In 1954, for example, the league's top five ground-gainers were Black. Nonetheless, a racial slur could fly out of the most unexpected mouth, said Triplett, recalling a game against San Francisco. "I hit their quarterback, Frankie Albert, out of bounds and he went into the bench. That precipitated a fight. The coach, Buck Shaw, raised hell to the official and he said, 'Don't worry, Buck, that nigger's out of the game.'"
During the '50s, club owners continued to drag their feet when it came to signing Blacks. It's believed most teams had an unspoken quota each felt it could comfortably field without upsetting local fans, sponsors, shareholders, and the perceived harmony of the locker room. During this transitional decade, coaches were guilty of "stacking" Blacks at certain positions requiring speed and brute strength, particularly end and back, so that they might eliminate themselves through competition. This allowed a team to avoid accusations of being discriminatory. Meanwhile, other positions were reserved for "brainier" whites.
Pete Waldmeir, then a young, freethinking sportswriter with The Detroit News, remembered being tutored in the early '50s about "how things go" in matters of race and sports. He was told by one unnamed baseball executive (presumably with the Tigers) that a team needed to be "smart down the middle." That meant not fielding a Black catcher, pitcher, or center fielder. Waldmeir was incredulous. "When I ran that outrageous scenario past a pro football coach," Waldmeir later wrote, "he listened intently, and then agreed. 'Nothing wrong with that,' he said. 'Why do you suppose we don't have Blacks at quarterback, center, middle guard, and safety?'"
The Tigers, the second-to-last major league team to desegregate, were widely viewed as a racist organization. Owner Walter O. Briggs was a strong-willed industrialist who made little secret of his distaste for organized labor in his factories and an integrated ball team on his diamond. Edgar Hayes of the Detroit Times said old-timers in the press box characterized the Tigers' unofficial policy as "No jiggs with Briggs."
The Lions, closely associated with the Briggs name, were considered in the Black community to be just as bigoted. Certainly Blacks felt less than welcome at Briggs Stadium, whether they were there to watch the Tigers or the Lions. Black baseball fans were seldom seen in the better seats — the field boxes and the lower-deck reserved seats between first and third base — because employees handling in-person ticket sales quietly steered them to certain "colored sections," particularly the lower-deck bleachers. According to Waldmeir, "when season ticket orders were mailed in, the addresses were checked. And orders that came from 'Black neighborhoods' were filled selectively because they didn't want to alienate white customers by seating them next to African Americans."
Throughout the 1950s, the two teams meeting in the title game each December typically were those fielding the most Blacks that particular season: Cleveland, Los Angeles, and, later in the decade, Baltimore and the New York Giants. The only consistent exceptions were the Lions, who in four championship games suited up just two Black players: Harold Turner in 1954 and John Henry Johnson in 1957.
"I don't think the coaches had anything against signing Black players," middle linebacker Joe Schmidt said in Parker's defense. "I think it was more of a case of scouting not being very sophisticated in those days. Hell, they were still drafting some guys out of magazines. Nobody was paying much attention to those small Black colleges."
Scouting being what it was back then, scrutinizing the larger out-of-state programs usually involved having a local part-time scout (typically a college coach or former player) bird-dog a particular school or conference and make recommendations. Many picks, white or Black, were selected without Parker or any of his coaches once personally setting eyes on the player. For example, Auburn halfback Dave Middleton became Detroit's top choice in the 1955 draft based solely on the recommendation of Louisiana State's head coach. A couple of years earlier, Kansas tackle Ollie Spencer inadvertently caught Parker's eye as the coach slogged through hours of film of that year's East-West Game and Senior Bowl. "So strictly from his performance in those games we drafted him — 'from the pictures,'" Parker said.
It's quaint to see the emphasis Parker placed in his 1955 book, We Play to Win!: "To demonstrate the importance of the talent-scouting operation, I'd just like to mention that National League teams spend an average of between $20,000 to $35,000 each season on scouting college players." Some of that money went for envelopes and stamps, as every year questionnaires were mailed to several hundred graduating seniors. At the end of the form, each player was asked: "Please name the five best players you have played against during the past season."
"We take these tips and then begin investigating the gridders immediately," Parker noted. With few, if any, of the questionnaires sent to players at historically Black colleges, and all of the Lions' scouts being white, it's hardly surprising that most Negro players weren't on the radar.
The Lions' scouting system was upgraded with the hiring of former Michigan halfback Bob Nussbaumer as full-time talent coordinator in 1954. Within a couple of years, the Lions were contacting 1,800 players each September, following up with phone calls to the 50 most promising prospects in late November and then telegrams to a select 15 finalists as draft day approached.
A total of 361 collegians were drafted each year by the NFL: a bonus pick selected by lottery, followed by 30 rounds of one pick by each of the 12 teams. The draft was held in January, usually in Philadelphia or New York. From 1956 through 1959, the draft was split into two parts. The first three or four rounds were held just after Thanksgiving in order to give NFL clubs a better chance to sign the top players before Canadian teams got to them. The remaining rounds were then held in January.
The record shows that Parker drafted a handful of Blacks, usually in the latter rounds as the pool of talented white prospects dwindled. In 1952, he selected Tennessee end Harold "Bulldog" Turner but lost him to military service. Turner came to camp in 1954 after spending two years in the Marines. He was sold to Cleveland during training camp, released, and subsequently re-signed with the Lions. He got into the final three games of the season, plus the championship game, replacing injured rookie back Dick Kercher on the roster. Turner's teammates voted him a half share of the title-game money.
Ray Dohn Dillon of Prairie View College was Parker's last pick in the '52 draft and the 357th choice overall. "Ray Dillon, the huge fullback ... has been impressive on occasion but on others looked like an ordinary player," Bob Latshaw wrote not long before Dillon was cut. Recalling his monthlong stint at training camp in Ypsilanti, Dillon later said that one of Parker's coaches dubbed him "Radar" for the aggressive way he shadowed Doak Walker and others on pass defense. "He said, 'Radar, you were supposed to make this team, but it's over my head right now.'"
In 1954, Parker made end Howard McCants, the former River Rouge High School star and the first Black player at Washington State, the 49th overall pick. The 6-foot-8, 230-pound high-jump champion, whose yardage-gobbling strides drew comparisons with the fading and soon-to-be-retired Cloyce Box, signed contracts with Detroit and the Toronto Argonauts.
"I intended to play with Detroit until I saw some things I didn't like," McCants said cryptically, refusing to elaborate on what those things were. That year, the Lions also drafted UCLA back Milt Davis, who was called into the army before he could try out for the team.
In 1955, the Lions selected a pair of linemen who impressed coaches and reporters at training camp. Elijah Childers, a "husky Negro tackle" from Prairie View, was described as "a poor man's Les Bingaman." But the 265-pounder was waived a week before the start of the regular season when Gil Mains returned from Canada and took his spot on the roster.
The other lineman was Walter Jenkins, a local star at Miller High and Wayne University. Quick, rugged, and a sure tackler, Jenkins was shifted from tackle to defensive end. In his first game, the 1955 season opener at Green Bay, he slammed into [Packers quarterback] Tobin Rote and caused a fumble, which Mains recovered for a touchdown. Jenkins started his second straight game at Baltimore, but two days later was waived. The Lions had acquired Los Angeles end Bob Long, and Jenkins was deemed expendable. A third Black, halfback William "Tex" Clark, had been Childers's college teammate. Clark was signed as a free agent but released the same day Childers was cut.
Perhaps the most promising of Detroit's Black draftees during Parker's tenure was Calvin Jones, the three-time All-American guard from the University of Iowa. Jones was a two-way marvel and a pioneer. He was the first African American to win the Outland Trophy, awarded annually to the top college lineman, as well as the first Black athlete and the first college player to grace the cover of Sports Illustrated. Although the Hawkeyes had a poor season in Jones's senior year, the Iowa captain still finished tenth in voting for the Heisman Trophy, a commendable achievement for a lineman of any color.
Today, Jones probably would be a first-round draft choice. In 1956, he had to wait until the ninth round, when Parker made him the 98th overall pick. Jones had already established himself as a man who demanded respect. After committing to play for Woody Hayes at Ohio State, he impulsively joined two Black childhood friends in enrolling at Iowa.
"I'll tell you why I came out here," he explained at the time. "They treated me like a white man, and I like it here. I'm going to stay."
The Canadian leagues, which fielded their first Black American player in 1946, were an attractive alternative for many Black collegiate stars. John Henry Johnson, for example, played his first season out of Arizona State for the Calgary Stampeders before switching to the NFL. Jones, swayed by the higher pay and more hospitable environment many Blacks found "up north," snubbed Detroit and instead signed with the Winnipeg Blue Bombers. His career ended tragically when he was killed in an airplane crash after his rookie season.
In the view of Milt Davis, Jones's decision to forgo Detroit directly affected his own chances to make that year's Lions squad. Davis, invited to camp after spending two years in the army, was put on waivers after suiting up for the first two regular-season games in 1956, neither of which he appeared in. Davis claimed he was victimized by an unwritten team policy. "We don't have a Black teammate for you to go on road trips, therefore you can't stay on our team," he recalled Parker telling him.
"That's one of those slaps in the face," Davis said. "It hurt considerably, but I'd been hurt so many times, that was minor." The following year, he had a successful tryout with Baltimore and signed with the Colts as a free agent. As a 28-year-old rookie, "Pops" Davis picked off 10 passes in 1957, tying Jack Christiansen for the league lead.
Davis retired after just four NFL seasons with Baltimore, having twice led the league in interceptions while helping the Colts win the last two championships of the 1950s. Part of the reason he left the game in his prime was money (he was making less than his white counterparts) and part of it was his desire to finish his degree (he was working on a doctorate in education). The decisive factor was his desire for simple self-respect. The All-Pro cornerback, army veteran, and doctoral candidate was tired of being turned away at whites-only restaurants and theaters, being directed to the "colored taxi stand," and sleeping in rundown boardinghouses in the "Negro section" of whatever city his team happened to be visiting.
In Dallas, the community that so warmly embraced Doak Walker, Bobby Layne, and Parker, Black players routinely encountered hostility and humiliation. Seared into Davis's memory was checking into a rundown Dallas boardinghouse, which the manager insisted was air-conditioned. "He goes to this room and opens the door, and he had a fan on a chair in front of the open window," Davis said. "I thought the ceiling was gray; it was all mosquitos up there."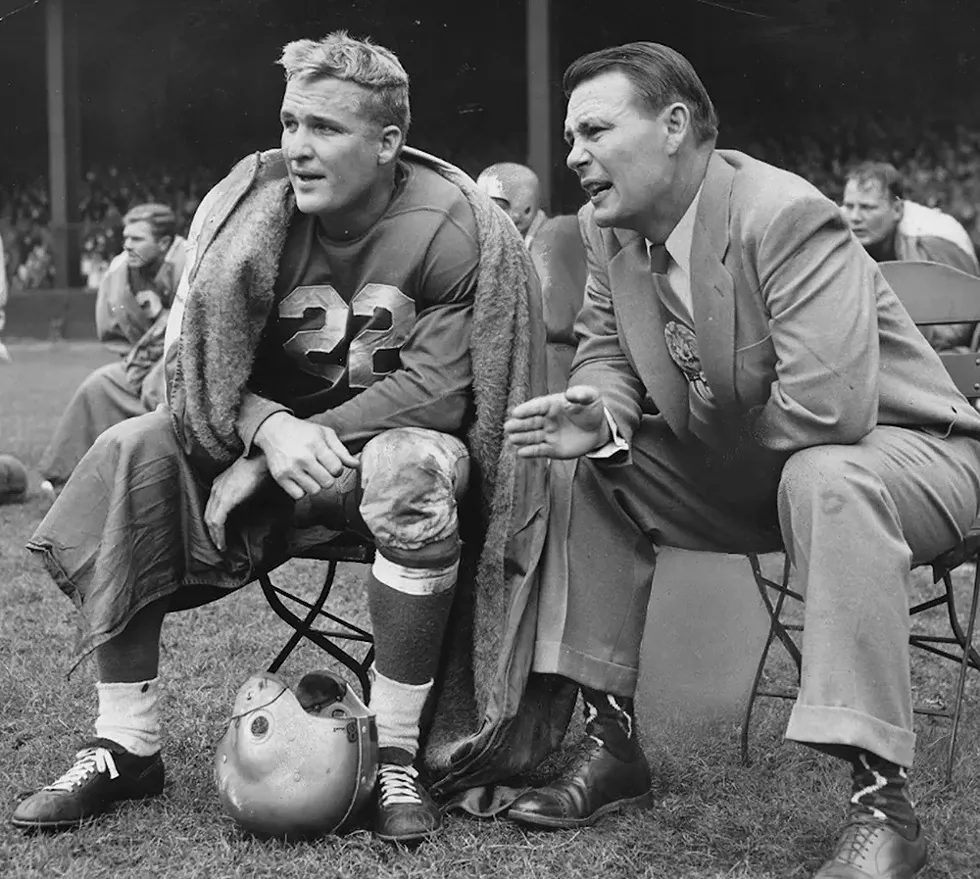 When Buddy Parker moved on to Pittsburgh in 1957, he inherited a team with two Black veteran players — defensive back Henry Ford and tackle Willie McClung — and one new Black coach, Lowell Perry. By the following season, Ford had been cut, McClung traded to Cleveland, and Perry reassigned as a scout. The shake-up could have been the usual personnel turnover, or it could have been something else.
Ford always maintained that he was cut and subsequently blacklisted because coaches learned he was dating a white woman — a major societal taboo in the '50s. Ford was starting his third NFL season when Parker took over. He was coming off a solid year as a two-way back in 1956 and had just enjoyed a fine preseason effort against the Lions in September 1957, Parker's first game as Pittsburgh's new coach. "I was playing offense and defense, and I thought I really had a hell of a day," Ford told Andy Piascik in Gridiron Gauntlet.
But when the team returned to practice the following Tuesday, Ford wasn't part of the regular offensive, defensive, or special teams drills. The same thing happened on Wednesday. He figured some rookies were getting a final look-over.
"Thursday came, same thing. Friday, same thing. On Saturday I was home looking forward to the game on Sunday, getting myself prepared, getting my clothes packed for the trip and everything, and I get a phone call from the business manager. Not the head coach or even any other coach, but the business manager ... and he says, 'That's it.' I said, 'What do you mean, that's it.' He said, 'They told me to tell you that's it and they'll take care of you when we get back from the game,' and he hung up. And that's how I was cut, right after I had played a hell of a game against the Detroit Lions."
Ford, who suspected the team was listening in on his phone calls, was devastated. Suddenly no club in the NFL was interested in him. The woman he was seeing became his wife of many years, an interracial marriage that survived the expected barrage of ugly comments and snubs, some coming from members of their own families. Although Ford later prospered in the corporate world and as a high school coach, "Being kicked off the team for something that had nothing to do with football or how I played the game caused me a lot of emotional trauma," he said.
In the early '60s, Parker's Steelers included a handful of Black players, notably John Henry Johnson, guard John Nisby, tackle Gene "Big Daddy" Lipscomb, and defensive backs Brady Keys and Johnny Sample. Sample was offended by what he saw as Parker's patronizing treatment of an older Black man named Wallace "Bootsy" Lewis. Parker considered Lewis, a craps-shooting handyman he'd first met at Centenary College and later discovered operating a shoe-shine stand in Los Angeles, his "good luck" charm. Parker invited Lewis to sit on the Detroit bench whenever the Lions were playing the Rams. Later he brought Lewis to Pittsburgh to act as his personal valet.
"Bootsy would wake Buddy up in the morning, shine his shoes, get him coffee, and so on, for which he was paid next to nothing and treated like a dog," Sample said. "John Henry Johnson had to drive Bootsy from practice at South Park, about an hour outside of Pittsburgh, to where he stayed in the city, because Parker wouldn't give him a ride. In fact, John Henry bought his lunch because Bootsy never had any money."
It was unavoidable that Sample's brash style would get under Parker's skin. In 1961, they nearly came to blows when the coach brushed aside Sample's demand for a pay raise by saying, "I know you had a great year, Sample. But Black athletes just don't deserve that kind of money, and I won't pay it." Parker was hardly alone among old-school NFL types in believing that, on the whole, Black players were intellectually inferior to their white counterparts, and thus worth less money.
Buster Ramsey was on Parker's staff in Detroit and Pittsburgh. In retirement, he was asked by sportswriter Dan Daly why Buddy didn't have more Blacks on his teams. "I ain't gonna tell you," Ramsey said. "You can figure it out." Given the unenlightened environment of Parker's formative years — Texas in the 1920s and the NFL in the '30s and '40s — perhaps the most charitable characterization of the coach is that he was a product of his times. But those times were changing.
Throughout the 1950s and into the '60s, Jim Crow practices in much of the South continued to restrict the mixing of races in many aspects of everyday life. It was a sign of the times that in August 1957, when John Henry Johnson didn't travel with the Lions to Birmingham, Alabama, for an exhibition game, his treatment elicited no outcry or commentary in Detroit's three daily papers. It was business as usual. That September, President Eisenhower sent the 101st Airborne to Little Rock, Arkansas, to forcibly integrate Central High School. The tense showdown between federal and state authorities played out on television screens across the country and became another landmark victory in the burgeoning civil rights movement. Johnson himself noted some years later that, as bad as race relations were at the time, his predecessors had endured worse. "Some of the guys who came before I did — the problems and discrimination they had to go through — it was rough," he said. "When I started playing, that kind of thing was sort of on its way out. People were starting to accept the fact that we were good football players and we could contribute to the game."
Such contributions were showcased at the 1958 College All-Star Game, when Black stars played key roles in the collegians' shocking 35–19 whipping of the reigning NFL champion Lions. Fans saw Michigan halfback Jim Pace break off the game's most electrifying run, Washington cornerback Jim Jones pick off three Bobby Layne passes, and Bobby Mitchell of Illinois spend the evening "making monkeys" out of Detroit's famed secondary.
"Actually both teams were liberally sprinkled with Negro players; and as has been the custom in recent years they were simply taken for granted," Howard Gould wrote in the Chicago Defender. To Gould, the prosy reaction to the growing presence of Blacks in such a high-profile sporting event was a solid indicator of progress. When the Chicago Tribune started the charity game a quarter century earlier, "the state of race relations was such that a Negro student could not play football or basketball at the University of Illinois," he continued.
"Friday night one of the outstanding stars was Bobby Mitchell from that school. Undoubtedly there were fans who noted that Mitchell comes from Arkansas, and who may have commented that he would be denied the right of playing football at Central High in Little Rock. The point of comparison rests in the inevitability of the fact that change will come to Little Rock and similar places, just as it did to Champaign, Illinois. Another comparison may be made of the Detroit Lions of Friday night as against the same team years ago. There was a time when astute fans would have laughed at the idea that a player from a small Negro college might play for the pros, but along with Danny Lewis and Johnson Henry Johnson, Detroit fielded a man from Kentucky State [halfback Henry Herzog]. These comparisons can best be understood by the older adults. Watching a spectacle like the All-Star Game they can think back over the years, and remembering the past from a race relations point of view, recognize the fact that the youngsters of today don't see as many racial barriers as they had to in the past."
While the country was then, and still remains, far from color-blind, 1950s activism set the stage for monumental change, with the Civil Rights Act of 1964 and the Voting Rights Act of 1965 remaking American society. Long before that, it was clear to all but the most delusional obstructionists that Black athletes were here to stay.
In 1960, rookie Roger Brown, a huge tackle drafted out of Maryland Eastern Shore, joined the Detroit lineup. That same year, the Lions traded for veteran defensive back Dick "Night Train" Lane, a future Hall-of-Famer feared for his necktie tackles, and acquired Willie McClung from Cleveland. With halfback Danny Lewis, who was drafted out of Wisconsin in 1958, this gave the Lions four Black players on the roster for the first time. By 1960, a total of 143 African Americans had played in the NFL since the color barrier was permanently breached in 1946, including 10 with Detroit. The league was now roughly 12 percent Black, a percentage that would steadily climb over the coming years.
Just as the NFL turned a corner in fielding Blacks, the American Football League (AFL) started play in 1960 in eight cities, giving players of all colors another option for their services. College stars often found themselves drafted by both leagues. Many Black draft choices — seeking a better opportunity, higher wages, or a more tolerant atmosphere — ignored the established NFL and signed with the AFL, just as others had earlier opted for the Canadian leagues. The Washington Redskins, the last all-white holdout in professional football, were forced to desegregate in 1962 at the risk of losing the right to play in their municipally funded stadium. Meanwhile, the civil rights movement pulled along a new generation unafraid of being militant. In 1965, Black players in New Orleans for the AFL All-Star Game forced the league to move the contest to Houston because of the city's blatant discrimination.
The growing number of integrated major college programs meant a deeper pool of talent to choose from on draft day. The Lions enlisted local high school coaching legend Will Robinson to help scout Black prospects. Such players as Bobby Thompson, Ernie Clark, Jerry Rush, Mel Farr, Earl McCullouch, Larry Walton, Altie Taylor, and future Hall-of-Famers Lem Barney and Charlie Sanders were signed by Detroit during the 1960s. They were in the vanguard of a remarkable transformation as the NFL and AFL merged into one league in 1970. Within the span of a couple of generations, the complexion of professional football changed from wholly white to majority Black on the playing field.
Presently, roughly 70 percent of all NFLers are African American. Although integrating the coaching and management ranks continues at a much slower pace, in 2014 the Lions hired Jim Caldwell as the club's first Black head coach, an event that passed with scant commentary about race. Today, Detroit fans cannot imagine a team history that does not include such Black standouts as Billy Sims, Al "Bubba" Baker, Barry Sanders, Herman Moore, and Calvin Johnson.
Among the players themselves, little thought is given to the pioneers who took on an intimidating adversary named Jim Crow. "I don't think these young Black players in the game today have any idea what we had to go through," John Henry Johnson once reflected. "They might have heard a little bit, but when they came in, we had their beds made for them and it was a lot easier."
Bob Mann returned to Detroit after leaving the NFL, working in real estate and earning a law degree. When the Lions inaugurated their new domed stadium, Ford Field, in 2002, he was invited to serve as honorary captain. One of the team's stars, nose tackle Shaun Rogers, was impressed by the trim and distinguished-looking septuagenarian.
"Man, I'm glad to meet you," Rogers said. "We don't know much about you guys." To which Mann replied: "I know you don't."
Excerpted from When Lions Were Kings: The Detroit Lions and the Fabulous Fifties by Richard Bak, available now from Painted Turtle, Wayne State University Press. It is reprinted here with permission.
Stay on top of Detroit news and views. Sign up for our weekly issue newsletter delivered each Wednesday.