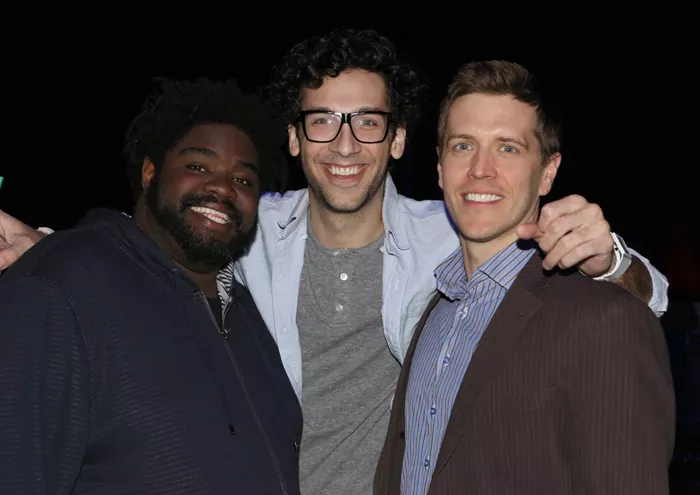 On Thursday, May 29, NBC aired the first two episodes of a new sitcom called Undateable. This is of interest to us because creator Adam Sztykiel is from here, and also because the show is set here (in Ferndale, to be precise). Detroit's presence is pushed in the series. The setting of much of the first few episodes is a bar owned by Justin Kearney (Brent Morin), one of the main characters. The bar, Black Eyes (often humorously mispronounced Black Guys), is decorated with the sort of Tigers, Wings, Lions, and Pistons paraphernalia that you see in just about any bar around these parts.
The story deals with Justin's apparent inability to speak to women, let alone actually date them. Enter Danny Beeman (Chris D'Elia), a cad who admits to living a life of gleeful superficiality. Hilarity ensues. Those two characters are joined by a small group of friends, and Danny's attractive sister Leslie (Bianca Kajlich). The latter, inexplicably, can't find a man. The friends — Brett (David Fynn), Burski (Rick Glassman), and Shelly (Ron Funches) also struggle to find love, but their character quirks make that a little easier to understand.
Reviews following the first couple of episodes have been mixed, but the ratings numbers were good. People apparently stuck around for the second episode after watching the first. By the time you read this, a third episode will have aired. Naturally, Sztykiel thinks that viewers should stick around.
"We really didn't know what to expect, and it was the highest-rated summer program in five years or something like that," he says. "It was huge for us in terms of momentum. The great thing from where I sit is that I know the episodes get better every week. Hopefully, people will continue to find it and check it out, and we've got some kind of growing audience."
The show isn't filmed in Michigan because the team behind it wanted to film in front of a live studio audience, so Warner Brothers is the venue. Still, from the opening credits to the large array of Detroit shirts that Shelly wears, the region can't complain about the promotion that the show's providing.
"If you look very closely, the bar says Ferndale across it," Sztykiel says. "Theoretically, it's right there on Nine and Woodward. We picked that because that feels like an area that feels a little bit younger, where Detroit and the suburbs start to meet, which sounds like somewhere somebody like Justin would be. He's a guy like [me] who grew up in the 12, 13 Mile area, and was then drawn closer to the city when he graduated and got older, like a lot of my friends."
A recent episode centered on a story line that had Shelly getting mad at Leslie because she said something negative about Detroit. "I won't sit here while you talk about Detroit like that," Shelly said. "She's a beautiful lady with an ample bosom." Let's be fair — we all know people like Shelly.
Morin had actually never visited Detroit before he started playing an area resident on screen, but he finally got to visit on a recent comedy tour. "I'd never been there," he says. "I didn't really have money growing up so I didn't really go anywhere. On tour, I was able to go to cities I'd never been to, and Detroit was one of them. You hear things about Detroit from the news, and it was beautiful. They put us in a great place and we played the Magic Bag — it was such a great show with great comedy fans. I really liked it, and I got to go by the Tigers' stadium too — I'm a big baseball fan. The Pistons too."
Glassman's character, Burski, is one of those people guaranteed to say the wrong thing all the time. "The idea of the character was created from a guy that [producer] Bill [Lawrence] actually knows, and says the wrong thing," Glassman says. "Bill saw me do stand-up, and I wasn't a Burski character and a lot of the comedy is sitting in the silence. Bill said that he liked how comfortable I was in awkwardness. If someone could be comfortable in awkwardness, you can have them say anything. My character isn't self-aware at all. I think what I'm saying is OK. That's really fun to play."
There was an early scene in the show that saw Burski "mermaiding" a girl — that is, seducing her without saying a word. Glassman isn't sure if he's ever employed this technique for real. "I want to think about that, because maybe," he says. "Yeah. The closest I've come is when you're on the phone with a girl, and you're both waiting, trying to get the ball in your court, so you wait for the other person to say something so you can respond. I'll sit there in that silence till I get control. That's not really mermaiding because now no one's talking, and we're on the phone for eight minutes. It's close. I don't know if it's mermaiding."
Going forward, Sztykiel says that the already apparent pseudo-relationship between Justin and barmaid Nicki will be firmly addressed. "Here's what I'll say — Bill and [I] both realize that the 'will they/won't they' aspect of a relationship on a TV show has been done many times, and it's been done many times better than we're ever going to do it, whether it was Cheers or Friends," he says. "We, as quickly as we can, get out of the way of the 'will they/won't they' of Justin and Nicki. This is a show that we feel is best suited to the characters hanging out and supporting each other. The concept is about, this is a guy who's going to help another guy get a girl."
We can all relate to that.
Undateable airs at 9 p.m. on NBC every Thursday.