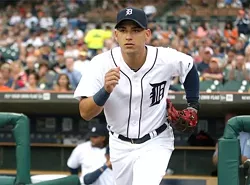 As the MLB's regular season winds down, the typical who-will-win-what-award debates have started. For example, the Cabrera vs. Mike Trout argument for MVP is probably the most hotly debated topic in baseball right now.
A lesser-known debate that has surfaced, though, is whether Tigers shortstop Jose Iglesias could, or should, win A.L. Rookie of the Year.
His defense is the shit of legends. He makes difficult plays at shortstop look easy. And then, when you think the plays can't get any better, he'll make a play that forces you to watch it over and over on the DVR just to make sure you saw it right. Even if he can't complete a play, he turns what are near-impossible plays for the average shortstop into close ones.
All you need to do is search Jose Iglesias on YouTube and you'll immediately be met with dozens of highlight reel-type plays. Though he wasn't the everyday starter at shortstop in Boston, Red Sox fans — as Tigers fans since have — became accustomed to his nifty glove.
But his bat — the reason the price at the deadline wasn't steeper — was allegedly a weakness. Now this wouldn't be the first time the Tigers acquired a more defensive-minded shortstop that wasn't expected to produce on offense.
In '09 they signed defensive specialist Adam Everett to a one-year deal and he ended up batting .238 with 44 RBIs on the year — it was expected though, because he wasn't brought in to produce runs.
Iglesias came into Detroit with a .330 average and 19 RBIs. The .330 was higher than expected, and maybe due in part to a ridiculously hot start, but the 19 RBIs were essentially on par with expectations. He's hit .276 with four RBIs since his arrival in Detroit, and that's perfectly fine.
People need to understand that he's not meant to replace Jhonny Peralta, statistically. All he needs to do offensively is get on base here and there, and maybe knock in a few runs. In terms of his "rookie of the year" candidacy, his defensive prowess and ability to hit for average might be enough.
Those things definitely should be enough for Tigers fans. He doesn't have Jhonny Peralta's power. He has a very different set of tools, ones Peralta didn't have.
When he was traded to the Tigers from the Red Sox, a Boston Globe reporter wrote that Iglesias was "the shortstop with the magician's hands and a questionable bat." The true part — Hermione Granger and Derek Jeter couldn't produce a child with more magical hands at shortstop than Iglesias.
And the bat — well, instead of questionable, it seems like his bat was just unproven, which is something he has slowly been proving to all of us in Detroit.
What's really unique about Iglesias' situation here is that he's paired on the same side of the infield with Miguel Cabrera, who isn't the strongest defender — to put it gently. And his range has been even more limited as of late with the injuries he's piling up. Fortunately, Iglesias has enough skill and speed to pick up any necessary slack.
When asked about some of his more ridiculous, eye-popping plays, he didn't reveal any industry secrets; it was a rather elementary response.
"I just catch it and throw it and see what happens," he said.
See? Not only is he one of the best defensive shortstops in the MLB, has a better-than-advertised bat and gives us some eye-popping highlights, but he's modest too. Oh, yeah — he's also never done PEDs either … too soon?