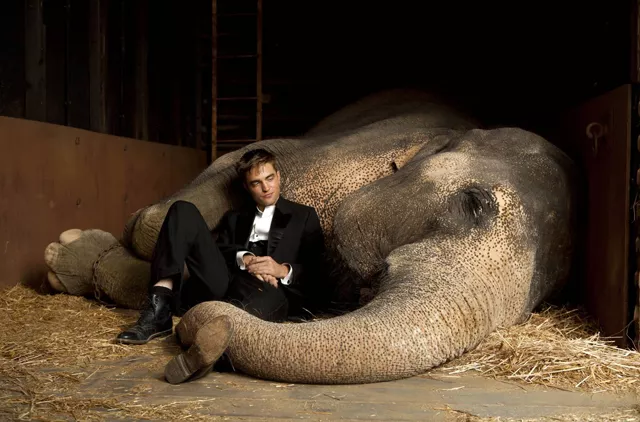 Water for Elephants
GRADE: C
None of Water for Elephants' leads — Reese Witherspoon, Robert Pattinson or Christoph Waltz — can hold a candle to the raw charisma of Rosie (Tai the elephant), the aging elephant who motivates a good portion of Water for Elephants' plot. Though none of the cast embarrasses, the little bit of heart I was willing to give to this lovingly shot, unexpectedly violent, yet relentlessly predictable bestseller adaptation goes to the film's 5-ton main attraction.
Unconvinced? Watch Pattinson's sleepy-eyed performance. Though his adoration is supposedly for Witherspoon's circus star, the real chemistry is between Rosie and the young actor. His giggles and smiles as she greets him are as authentic and engaging as his annoyingly passive protagonist gets.
It's not that Francis Lawrence's (Constantine) take on Depression-era circus life is all that bad; it's that it's so crushingly banal. Screenwriter Richard LaGravanese kicks things off with that hoariest of clichés: the old man (a wasted Hal Holbrook) recounting his past, before launching into his this-then-that storyline and the film's inevitable and unrevealing voiceover narration.
Jacob (Pattinson) is about to take his final exams at veterinary school when he learns that his immigrant parents have died in a car crash. Broke and homeless, he decides to ride the rails and ends up hopping aboard the train for the Benzini Bros. Circus. A kindly roustabout takes him in and before you know it Jacob's under the employ of the charismatic yet menacing ringmaster, August (Waltz). Possibly bipolar, the bossman vacillates between impromptu generosity and frenzied sadism, discarding animals and employees as the need arises. His wife Marlena (Witherspoon) is the big top beauty — and inevitable fixation for Benzini Brothers' new vet.
Water for Elephants wants to be a Hollywood tale of epic romance, heated revenge and chest-heaving melodrama, but the surprise-free script and unconvincing love triangle mostly plod. Where Lawrence finds greater success is in establishing and exploring the social microcosm of the circus, with its arcane hierarchies, period jargon and self-contained sense of community. Moving from train car to train car, we're given moments where the magic of Sara Gruen's novel peeks out and presents the kind of immersive world books specialize in creating.
Lawrence drinks up the environment much as he did with his post-apocalyptic setting in I Am Legend. Using light and texture, cinematographer Rodrigo Prieto captures the wide-angle grandeur of the circus tent and the claustrophobic living quarters of traveling life with verve and style. Unfortunately, the desperate poverty and destitution of the Great Depression mostly act as backdrop, missing all possible connections to the economic struggles so many Americans face today. Worse, Lawrence botches the film's final act catastrophe — supposedly "one of the worst in circus history." What should have been a memorable center ring attraction is instead a confused and anticlimactic confrontation that rushes the villain toward punishment and delivers the lovers safely into each others' arms.
Water for Elephants has the picturesque look and feel of a fiery 1930s melodrama, the kind of broad-based popular film some claim Hollywood can't make anymore. With its paint-by-numbers plotting and tepid performances, maybe the naysayers are right.