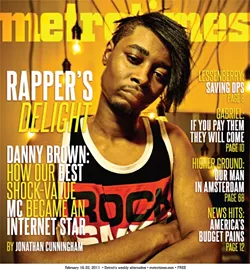 Danny Brown made an appearance at SXSW this week. It wasn't to perform
because nope
, but rather as a willing participant on the magnificently titled 'Rap Warrior Ninja' sketch on
The Eric Andre Show
.
Now, in case context isn't your strong suit, the sketch is essentially what happens when rappers get pitted again one another
American Ninja Warrior
-style. As prefaced by Andre, "there's no teams, no uniforms, just a bunch of rappers."
For Danny Brown and A$AP Rocky, this meant trying to freestyle while tip-toeing blindfolded through "soiled underwear" and across "mouse trap plank, ball swing alley and snake pit."
And if that doesn't pique your interest, there's also a moment where Andre's sidekick Hannibal Buress yells "KEEP RAPPING!" at Danny Brown, who then gets hit by a foam lance.
See for yourself.
If
The Eric Andre Show
wasn't already your thing, it certainly will be after watching this.