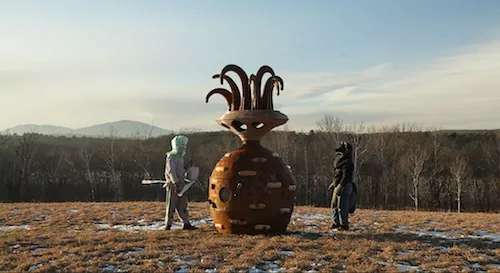 The last time we heard from Andrew H. Shirley was about four years ago. Back then, the native Detroiter was working on a show called
Monty and the Boozehound
, and we wrote the show up after meeting the artist for some burgers.
Now he's back in town building out a 7,000-square-foot installation in the Recycle Here building to help Matt Naimi launch his new Make Art Work arts foundation. The exhibition, called
Wastedland: Detroit
, harks back to the days when parties were thrown in abandoned car factories, and graffiti was admired as an artistic addition to the landscape.
Fittingly, the show will coincide with the
Murals in the Market festival
, and Shirley has been as conscientious about including Detroit's original graffiti artists as he was before. Names will include George Vidas, Greg Henderson, Ryan C. Doyle, UFO 907, and many more.
The exhibition will also include the debut of Shirley's film,
Wastedland 2
, which Wild Style director Charlie Ahearn called "a new Wizard of Oz for the anarchist street youth." The film will screen while the show goes on around it. No spoilers, but the story involves three masked vandals, a mysterious artwork, and an open-ended quest for beer, weed, and a wall to paint. Imagine a sort of surreal
Endless Summer
for the spray-paint set.
Show starts at 9 p.m., with music at 10:30 p.m., on Friday, Sept. 16, at Recycle Here, 1331 Holden St., Detroit.