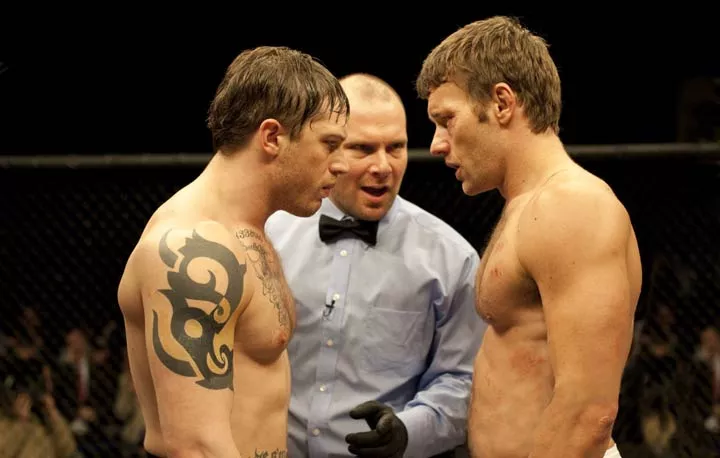 Everybody loves an underdog, especially at the movies, where palooka tales are evergreen and hard-luck heroes always have a puncher's chance of achieving their most cherished dreams. Combat sports, from boxing to karate to even wrestling, have all scored cinematic victories, yet the increasingly mainstream MMA (Mixed Martial Arts) has never found a movie worthy enough to echo it's blooming popularity. Relax, fight fans, you finally have a contender. Unfairly dumped into the late summer wasteland, Warrior may load up the trophy case come winter on the strength of some knockout performances.
Nick Nolte makes a welcome return to relevance as Paddy Conlan, the bruised and battered patriarch of a Pittsburgh clan of brooding fighters who have done more damage to each other over the years than they ever have to their opponents. Paddy proudly boasts a thousand days of sobriety, a fact that comes as too little, too late for his grown sons, neither of whom have any use for his apologies and excuses after a lifetime of booze and belligerence. Both Conlan boys were promising athletes, distracted along the way from reaching in-ring glory. Older brother Brendon (Joel Edgerton) had a brief run in the UFC, but domesticity and fatherhood forced him to teach high schoolers of Newton's first law of motion, rather than illustrate it on some poor jerk's face. Moody kid brother Tommy (Tom Hardy) ended up a Marine and served a few tours in Iraq, a place he left with a footlocker full of unresolved issues.
Both men find themselves returning to action — Brendan to save his mortgage, Tommy for more mysterious reasons — and now these feuding siblings find themselves on an unlikely collision course, entering a winner-take-all tournament in Atlantic City. The purse? Five million dollars.
That two relative unknowns would find themselves suddenly facing elite international competition stretches credibility even farther than the grapplers distended joints in a submission hold, as do some of the more absurd dramatic turns the story takes in the third act. Such inauthentic notes are particularly jarring in a film that has done so much to earn our trust, creating an engrossing, lived-in world of characters full of buried feelings and wounded hearts.
Director Gavin O'Connor is a pro at milking every bit of excitement and emotion out of sports, doing even more for MMA than he did for hockey with 2004's Miracle. He also shows a sly sense of humor by casting U.S Olympic gold medalist and star-spangled pro wrestler Kurt Angle as the sneering indestructible Russian champion.
Everton and Hardy both give star-making turns, in tip-top shape both physically and mentally, lending grit to the drama and battle choreography. As compelling and savage as the fight scenes are, it's the brutal personal dynamics that keep us interested. Particularly grueling is how the wounded sons dish out punishment to their battered dad. When Paddy shows up at the house, he gets no closer than the lawn, getting only a heartbreaking glimpse through the window at the granddaughters he doesn't know. Nolte crushes that scene, and brings such obvious personal weight to it that it's more devastating than a right hook. There are obvious parallels with last year's acclaimed boxing flick The Fighter, which also explored the family ties that bind and sometimes strangle us all. But Warrior is surprisingly thrilling entertainment in its own right — manipulative, yes, but with enough guts and heart to tough it out and deliver something truly worth rooting for.