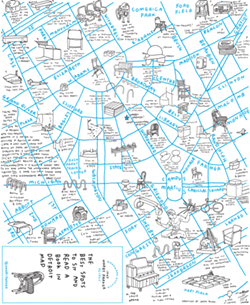 Last week we told you about an affordable eyeglass store that's coming to Downtown Detroit. Warby Parker makes hip specs at bargain prices and they're setting up shop in the old Vernor's Pharmacy on Woodward Avenue.
So, we're stoked for a couple reasons: First, affordable retail is coming to an area that's recently seen a influx in high end stores like John Varvatos, Shinola, Kit & Ace, Filson, and a host of other places that most employed people in metro Detroit can't afford to shop in. Second, their glasses are totes adorbs! And as a bonus Warby Parker is a business that gives back — for every pair of glasses sold, they donate a pair to someone in need.
The big drawback is, of course, that the frames and other components of the glasses are constructed in China, which is a big time bummer. But, you know, at least they don't have some terrible slogan like, say, "Assembled in Detroit."
OK, so now we can move on to the fun stuff, all the while hoping that Warby Parker will move its production stateside.
The fun stuff: Warby Parker partnered with illustrator Jason Polan to create a map of the best places to sit and read in Detroit. It's pretty cute.
The map includes the shoe shine chair outside of Hall B in Cobo Center, a stool at Lafayette Coney Island, a desk at John King Books, the wobbly chairs in Campus Martius, the row of chairs outside the Michigan Science Center, two painted tires at the Heidelberg Project, the steps at Hart Plaza, under a tree in Canada, and various other small, quiet places that only people who love reading will truly appreciate. The whimsical sketch is drawn on the whacky grid that is Detroit's ground plan, which makes the whole thing a little frenetic, yet still super fun.
You can pick up a copy of the map at Warby Parker's Detroit location, at 1449 Woodward Ave., starting on Saturday, Nov. 26.