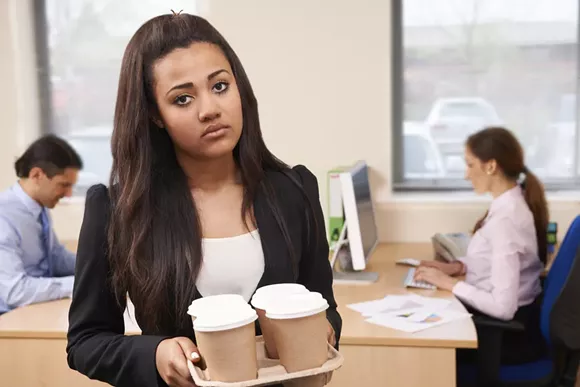 Looking for a fall internship that values your excellent taste in GIFs, Reddit karma ranking, and generalized anxiety? Want to work in an office with a staff who regularly go on group 7-Eleven excursions? Great, keep reading.
Detroit Metro Times is looking for someone who loves fun and the internet and who isn't a jerk. This last thing is very important. The position will report to the web editor and will be focused on creating content for the web, including multiple social media platforms.
Key responsibilities will be:
1.
Creating editorial galleries
— you'll use images in conjunction with clever, informative(ish) copy to tell a story. For examples, please see
here
,
here
, and
here
.
2.
Blog writing
— our print product hits newsstands each Wednesday, but we publish web content around the clock. We'll expect you to pitch your own ideas, produce assigned content, and quickly adapt to the Metro Times voice and style.
3.
Social media
— you'll crete copy, curate images, and schedule social media updates. Show off your meme skills, examine humanity.
We're looking for people who:
1.
Get the internet.
We don't want to teach you how to tweet, though we won't judge you by your number of followers. We want someone who wants to learn about online content strategy while offering creative new ways to continue upping our Internet game.
2.
Get Detroit.
Ok, metro Detroit. There's no shortage of content about the Motor City, and at Metro Times, we aim to rise above the noise and bullshit to present a unique, informed perspective.
3.
Have a sense of humor.
There will be days when you write something and no one cares. We expect you to find a tearful GIF and move on.
4.
Have goals.
Our internet game is driven by them and we expect our interns to be goal-minded. We don't care if you're halfway through a B.A. in English Lit or if you're an Accounting major who just happens to have a keen sense of what will probably go viral, but we will ask you how this role will help you in the future. Have a good answer.
Compensation: Your performance as an intern will largely be determined by how well your content performs on the web. Interns with the most engaging stories and posts will be rewarded with perks like....such as....tickets to some of the area's top concerts and events, movie passes, food, gift cards to local restaurants and 7-Eleven, access to exclusive parties, and much, much more. Top interns also have the opportunity to pitch stories for print (which can earn $$$).
Alright, interested? If so, please send your 5 favorite things on the internet and a resume to Alex Fluegel at
[email protected]
by August 11. Don't send a cover letter, unless it's a poem.