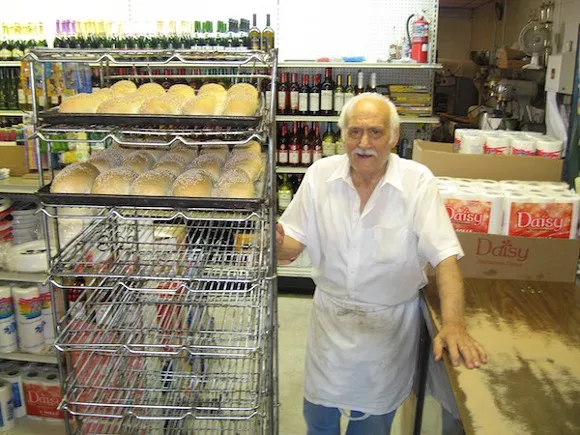 A reader emailed us over the weekend to let us know that Vince Cucci had died. He was 87 years old.
In 1970, the immigrant from Palermo, Sicily, opened his bakery, pizzeria, and party store, Vince's, on Eight Mile Road in Detroit. For 45 years, he showed up almost every single morning to bake the bread and make the dough for the sandwiches and pizzas the little store churned out. (Onetime employee Pat Covington
once estimated the shop had sold more than 2 million sandwiches
.) The place
closed in early February after Cucci fell ill
, and we had wished the old guy well and hoped he felt better. (We also
blogged about the place again earlier this month
after learning the address was listed by a business applying for a dispensary license.)
The news of Cucci's death was made all the more poignant because the person who emailed us worked there as his first job "at the age of 14." Along with the sad news, he declared: "I will never forget Vince. He gave me my first job and the entire family taught me how to work hard for what you want."
Those wishing to pay their last respects are welcome 3-9 p.m. (with a scripture service at 7 p.m.) on Tuesday, March 22, Wujek-Calcaterra and Sons, 36900 Schoenherr Rd., Sterling Heights; 586-826-8550; wujekcalcaterra.com. The funeral will be held at the home at 10 a.m. Wednesday, March 23.