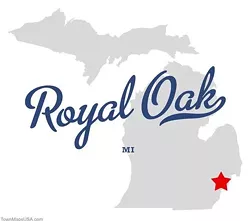 On Nov. 10, 2016, a
video of Royal Oak Middle School students chanting "Build the wall," to the dismay of their Latino classmates
made waves on social media. It was viewed around the world and inspired a
peaceful demonstration during a school basketball game
.
But until now, the students on the receiving end of the chant were mum about the experience. Josie Ramon was the student who captured the seven-second video. According to a CNN article, she then sent it to her mother who began to share it with some friends who also had kids in Royal Oak Middle School. It was one of those parents who posted in on Facebook, the article says. Isabelle Castilla, Josie's best friend, was so upset by the chant, that she ran to the bathroom in tears. That's when Josie started filming.
In the interview with CNN, Josie and Isabelle describe their reaction to the chant and the backlash they faced after the video was posted to social media.
"Then you hear what they're saying, and then they're beating their hands against the tables," [Josie] said. It got louder and louder: "Build a wall!"

"You look around, and half the cafeteria is doing it," Isabelle said. She and others felt that it was directed toward her and the other Hispanic students.
They describe feeling scared, but also angry at their fellow classmates. Josie goes on to say she's been the victim of several racist comments, but felt the school swept the allegations under the rug. She took the video in hopes of retaining some evidence.
For standing up for herself, Josie says she was further victimized.
At school, Josie said, she became the focus of negative attention, instead of the students who did the chanting.

"When I walked into the room, people would walk out of the room for some reason. People would see me in the hallways and turn around and walk the other way," she said. "I felt like an animal."
Due to feeling of ostracization, Josie left Royal Oak Middle School and has enrolled in private school, a change her mother says is for the better.
During our visit to Royal Oak, Josie finished her first week of classes at her new school. Alicia Ramon already sees the difference.

"She was joking. She was funny. She was back to her usual self, a kid I hadn't seen since this happened," she said. "I feel like seeing a weight that was lifted off her shoulders."

Josie says she likes her new school, even though she has to wear a uniform now and the homework load has increased. She feels safe and welcome, she says, two things she didn't feel at Royal Oak Middle School.
You can read the article in its entirety
here
.