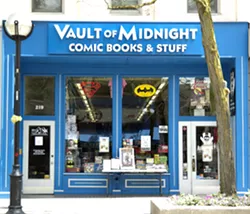 Remember when we told you the award-winning Ann Arbor-based comic book store
Vault of Midnight was planning to open a third location in Detroit?
That was over a year and a half ago, so maybe you forgot.
Well, the promised store is indeed coming and we received word this morning that co-owners Curtis Sullivan, Nick Yribar, and Steve Fodale plan to open their third location on Library Street in downtown Detroit this spring.
The store will be located inside The Z retail space, which is owned by Dan Gilbert's Bedrock Real Estate Services. Its neighbors include Punch Bowl Social, Library Street Collective, Nojo Kicks, 7 Greens, Standby, and Citizen Yoga. Townhouse, House of Pure Vin, John Varvatos, and Wright & Co., and Central Kitchen + Bar, and Moosejaw are all just a short walk away.
The 2,000 square foot shop will offer a broad selection of comics, graphic novels, toys, games, action figures, and branded merchandise. According to a press release the shop will have a glass window façade and custom shelving and fixtures by Michigan firms Cantelon Finishers and By The River Carpentry.
Sullivan says the location is an excellent fit for the shop.
"As soon as we saw The Z and The Belt, with their bold artwork and graphics, we knew we'd found the perfect home for our Detroit location," Sullivan said in a press release. "Vaults of Midnight exist in real, brick and mortar buildings in real, vibrant communities and there is no place more exciting right now than downtown Detroit. We are thrilled to bring something new and completely different to the mix and become part of the city's historic resurgence."