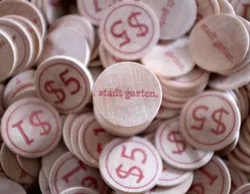 "Most backyards are boring AF, Old Miami and a few others excluded," says Mark R. Beard.
Beard is a co-founder of Stadt Garten, an urban beer garden that's set to open up in Midtown on Saturday, July 16.
It will not be boring AF.
Stadt Garten, which translates to "City Garden," will serve beer made by Corktown's Batch Brewing on the grounds of the recently renovated 1880s Gothic-Victorian mansion at 3980 Second Avenue.
The beer garden will be open from 10 a.m. to 10 p.m. on July 16 with more dates to follow later in the season. The opening party will feature four select beers from Batch ranging from $5 to $7. There will be wine as well as scented cocktails (?!) from Sfumato Fragrances, plus snacks from local vendors.
There will be a beer pong table. And staring contests, according to a press release.
"Almost a 100 years ago my Great Grandfather moved to Chicago from Germany," says Beard. "Opa Schardt worked in the meatpacking plants to afford the trans-Atlantic passage for his wife and children, including my 3-year-old Grandma. Opa was a disillusioned German vet of World War I who came to fight for a new life instead of the Kaiser. He wouldn't allow German spoken in his home because the need to assimilate was so intense. This is kind of a reclamation of my heritage that got lost in an American Dream. Prost, Opa!"
We're guessing there were a lot of staring contests during the assimilation process.
Anyway, back to the party.
Ryan Spencer of Jamaican Queens fame will spin from 7-10 p.m. and the high-end clothing retailer located inside the renovated mansion, Detroit Clothing Circle, will be open for the duration of the party.
Proceeds from the event will go to Hostel Detroit. The Corktown-based nonprofit provides cheap accommodations for travelers and educates them on the past, present and future of Detroit.