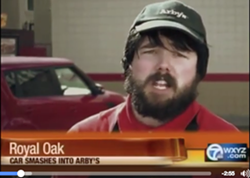 By now you've surely seen the video of the
'weird Royal Oak Arby's worker' describing the scene of an accident
.
(And hopefully you took the time to read through our story and realize yes, we did know this was not real. Shout out to
Andrew Bowser
for getting people all riled up.)
Well, as predicted, the video has now been remixed, thanks to experimental musician Dywane Thomas Jr., who goes by MonoNeon. He added music to the video that mimics and harmonizes every word 'weird Arby's guy' says.
MonoNeon: CAR SMASHES INTO ARBY'S - Music for WEIRD ARBY'S GUY INTERVIEWED from Dywane MonoNeon Thomas Jr. on Vimeo.
The bassist from Memphis has a laundry list of remixed viral vids that are worth checking out, plus
a tribute to Phife Dawg
that's pretty dope.
Check 'em out and keep the Internet weird.