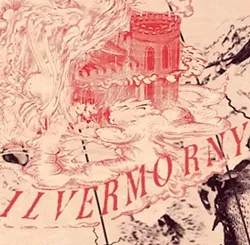 Say it isn't so, J.K. Rowling!
You may remember a few months ago that
Harry Potter
author and all around Queen J.K. Rowling announced a slew of magical schools of Witchcraft and Wizardry from around the world – including one special North American school called
Ilvermorny
via Pottermore.
Rumors swirled the Internet faster than a Nimbus 2000 about where this secret school could be located. We stumbled upon a local blogger, Tom B., who made a
pretty convincing case
that Ilvermorny could be located in our very city of Detroit.
Earlier this week J.K. Rowling finally released a full on back story of the history of Ilvermorny including its origins and the school's houses. Turns out, Ilvermorny is not located in Detroit, which makes us sadder than Harry was during the
Order of the Phoenix
, which any
HP
fan knows was pretty fucking sad.
Rowling explains that
Ilvermorny is located
on the highest peak of Mount Greylock which is located in Massachusetts. Which totally makes sense given the Salem Witch Trials and the state being an original colony of America. But still, really? REALLY?
Massachusetts? Alright J.K. Rowling, we'll let this slide, but just know, Detroit is pretty damn magical.