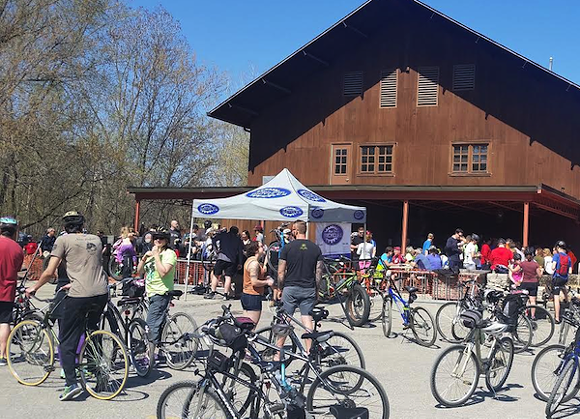 There's still time to buy a ticket for what should be one of the nicest spring rides through Oakland County this year. It takes place May 7, along the Clinton and Paint Creek rivers, when the trees should be leafing out in first green along the riverbanks. It will include a stop at a picturesque cider mill for donuts and beer, ending with a rain-or-shine party with live entertainment at a popular Rochester Hills watering hole. And proceeds will help the Paint Creek Trail itself.
The fund-raising event Cruisin' for the Trails is being put on by Motor City Brew Tours, whose Steve Johnson tells us the country is especially beautiful this time of year, which makes this Oakland County ride one of the more unusual ones of the year. "This trip starts at Clubhouse BFD, which is about a half-block away from Clinton River rail trail. That's a really pretty trail, and we'll take it into Rochester and hook up with the Paint Creek trail." Riders will be able to see the river at several points, and there are even opportunities to see wildlife along the way.
There will be a supply-and-gear stop at a cider mill, where they'll be serving donuts and New Belgium beer. The majority of riders will head back to Rochester to complete the 17-mile there-and-back trip, but some riders will continue on to Lake Orion's 51 North Brewing Company. Those who return to Clubhouse BFD can find a party area, tent and all, adjoining the patio where the cyclists enjoy a post-ride party.
It's this ride's fourth year, and it has grown in both numbers and sponsorship. Johnson says the New Belgium connection has helped attract more riders. That sponsorship is why they'll have $3 New Belgium beers in the party tent. In fact, they'll even be raffling off
one of the bikes New Belgium commissioned Detroit Bikes to build for it
.
If you've never done a group ride before, or even if you don't consider yourself much of a cyclist, this might be a good opportunity for you to try. The trails the ride will take were formerly rail lines, and have the same gentle slopes the locomotives of the old days needed. Which means they'll be easier for those with limited pedal-power.
The event begins at 9:30 a.m. Saturday, May 7, at Clubhouse BFD, 2265 Crooks Rd. Rochester Hills; it's $25 in advance and $30 day of, cash only. For
more information
, or
to buy tickets
, see
Motor City Bike Tours
.
Here's highlights from last year's event.