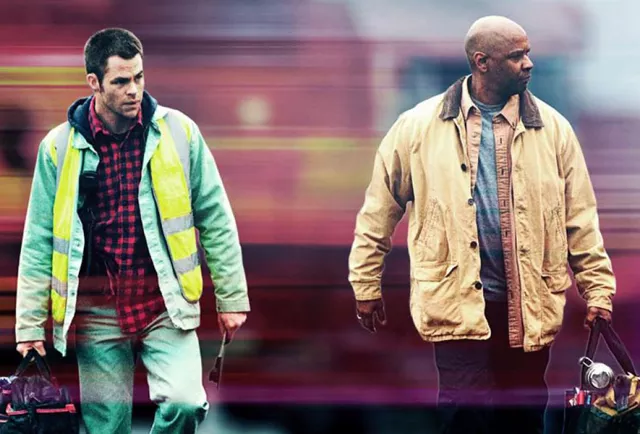 Trains, for whatever the reason, are a uniquely cinematic form of transportation. Especially when they're in runaway mode, flattening, smashing and crashing through everything in their path. Filmmakers have instinctively known this since the silent film era. So, if nothing else, Tony Scott's Unstoppable has that going for it.
Too bad that's about all it has going for it. Because as far as popcorn movies go, this is the talkiest damn action flick you're likely to see in some time. Not since The Bone Collector has Denzel Washington (playing a quadriplegic) spent so much screen time sitting on his ass. Come to think of it, Denzel clocked quite a few minutes on his tush in Scott's remake of The Taking of Pelham 1,2,3 last year. Maybe they've got a low-aerobic agreement. At least in Pelham we had the joy of Brian Helgeland's over-the-top monologues to get us through tedium.
To say Unstoppable is a relentlessly one-track movie is as punny as it is accurate. Loosely based on the 2001 story of train #8888, which tore through Ohio with no one at the controls and a cargo full of toxic chemicals, the screenplay by Mark Bomback (Live Free or Die Hard) has changed the setting to Rust Belt Pennsylvania (also the location of a toxic derailment) and filled the story with hard-working, blue-collar Americans. You know, the kind of folks who say: "If ya gonna do something, do it right." And have daughters who are paying their way through college by working at Hooters. While the government eggheads and callous corporate fat cats make all the stupid mistakes (but never really get held to account), black-and-white everyday he-men such as Chris Pine and Washington "git 'r done" with nothing but sheer moxy. Meanwhile, FOX "News" choppers valiantly capture and comment on the action (no doubt between Hannity and Beck rants against funding public rail).
Of course, it's another blue-collar everyman that causes the whole mess in the first place. Which is how Unstoppable's meandering narrative kicks off. For nearly an hour, Scott bounces between the accidentally runaway train gaining speed and the two leads — one a veteran engineer, the other a cavalier whippersnapper — getting to know each other. Pine's marriage is troubled and widower Washington can't connect with his daughters. Neither of their backstories impacts the plot and both are completely unaware that there's a big-ass train hurtling toward them. Scott throws in enough slam-bam near misses — kids on a bus, a trailer filled with horses — to keep you engaged, but mistakes the audience's growing impatience for mounting suspense.
As you might expect there are shaky-cam shots and swooping aerial footage and choppers frantically buzzing the runaway locomotive, but until the film's brisk second half, Pine, Washington and Rosario Dawson (as a rail controller) are subplots in their own movie. When the two men finally get to deliver the action thrills, it's pretty predictable stuff. Scott gives these scenes enough adrenaline and spectacle to pacify the blow-'em-up crowd, but the plot turns and character development are mostly surprise-free.
The script throws in a populist, anti-greedhead message when the train first loses control but the corporate villainy is long dropped by the film's third reel. Though the toxic-laden-locomotive-speeding-toward-a-Pennsylvania-city storyline has its roots in reality, Unstoppable skips the fact the real-world derailment of a similarly poisonous locomotive in 2002 resulted in the CEO of the cost-cutting safety-compromising company welcomed into George Bush's administration.
For the less discerning, Scott's film offers two hours of big, loud, low-expectation entertainment. For those who like their out-of-control juggernauts to be fueled by creativity and drama, check out 1985's dreamily unpredictable Runaway Train.