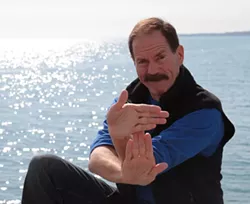 Si Quaeris Peninsulam Amoenam Circumspice — "If you seek a pleasant peninsula, look around you." That's the motto of the great state of Michigan.
Si Quaeris Ostendo TV Peninsulam Amoenam Inviso Sub Radar — "If you seek a TV show about our pleasant peninsula, watch Under the Radar." That's the motto of two guys from Detroit who turned desperation, a love of travel shows and good ol' Michigan ingenuity into one of the more interesting new local series being produced here these days.
UTR: Under the Radar Michigan, airing on Detroit's WTVS (Channel 56) at 7:30 p.m. Thursdays and 10:30 a.m. Saturdays and at various days and times on a string of public television stations from Mt. Pleasant to Manistee, is a leisurely, revealing stroll through cities big and small in the Great Lakes State, featuring attractions that are — well, under the radar. The first round of episodes uncovered a world-renowned vodka distillery in Traverse City, an authentic Cajun restaurant in Marquette, and a first-class, European-style hotel in Cadillac, among other Michigan treasures. Metro Detroit has been spotlighted, through Royal Oak's delectable (and cheap) Mexican restaurant Zumba and the underpublicized bed-and-breakfast jewel in downtown Detroit, the Inn on Ferry Street, and undoubtedly will be again.
The show is the panic-driven creation of Jim Edelman and Tom Daldin, two longtime friends, experienced media professionals and, like far too many of their fellow citizens, unemployed workers.
"This was kind of the culmination of two desperate guys who'd lost their jobs," admits Daldin, UTR's host, he of the prominent moustache and whimsical manner. "I was producing [video materials] for the Big Three for 10 years, and when that work went south, I sat for a year and a half, 75 percent of my income out the door. "I've got a kid at Michigan State and a daughter who likes to go shopping. I was desperate!"
Edelman, former national sales manager for Clear Channel Communications sent packing with 1,800 of his co-workers in an Inauguration Day purge, was in similar straits. "I called Rich Homberg [president and general manager of WTVS] and met with him," Edelman says. "He said, 'I don't have a job for you, but maybe you could develop some projects for us.'"
Edelman immediately remembered Bob's Jobs, a multiple Emmy-winning children's show Daldin created and hosted (he was Bob) on Channel 56 five years ago. "I knew the problem with the show was that it ran out of funding, so I thought with my sales skills and their ability to put the show together, we might be able to resurrect it."
They took another meeting with Homberg and WTVS top brass, all set to present their big idea. "We sat down and re-pitched Bob's Jobs and they all said, 'Fantastic, we loved that show ... five years ago,'" Daldin recalls. "But they said children's programming is a nightmare now, too many people trying to do it and too many regulations, it's just a quagmire. They looked at Jim and me and said, 'So, what else you got?' This was five minutes into the meeting!" They hadn't come with a Plan B in mind. "We're like, 'OK, bring your canes out, it's time to dance!'" Daldin says, laughing. "The word 'travel' just fell out of our mouths. We totally Seinfelded a show."
The concept wasn't too far from either of their thoughts. "We're both big travel show nuts, we both love [Travel Channel host] Anthony Bourdain," Daldin says. "There are other Michigan travel shows, but the majority of them are either pan-frying perch, painting a lighthouse or shooting something in the woods. And that's great, because there are a least a million hunters in Michigan and a ton of outdoors people. But what is there for people who want to know about cool restaurants, cool new businesses, funky people, anything that isn't fishing, shooting or hunting? So we came up with the concept of Under the Radar, meaning things not everybody knows about in our state, but should."
Six half-hour episodes of UTR have been produced, with new shows to be added to the mix after the first of the year. For now, the six existing shows are running in rotation. "What we've been noticing, especially as we were freaking out thinking, 'Boy, there's going to be a lot of folks screaming for new content,' is that people are continually discovering the show for the first time," Daldin says. "We have a very active Facebook page [facebook.com/UTRMichigan], and those are the responses we've been getting. People haven't started screaming yet."
Besides affording college tuition for his kids, Daldin has another goal for UTR's success. "I'm tired of hearing kids say, 'I can't wait to graduate college and get the hell out of Michigan,'" he says. "You never hear the words 'cool' and 'Michigan' in the same sentence. I kind of like it here, and part of my motivation is to help everybody here realize this is a great place to be. I mean, it's not Iowa!"

Under the big top: Can you believe that today, in 2010, there are still young people who run away to join the circus? And for the long months that the New York-based Big Apple Circus travels together, more than 100 such people — from the grunts who erect and tear down the tent to the superbly trained athletes who work as clowns, aerialists and tightrope walkers — comprise one big, rolling dysfunctional family. That's the crux of Circus, the six-hour docuseries premiering from 9 to 11 p.m. tonight (Wednesday, Nov. 3) on PBS (Channel 56). Now, this is public TV's big-ticket original production for fall, and though the backstage lives of circus performers do hold a certain lurid fascination, Circus moves at the pace you might expect from a PBS reality series: s-l-o-w. One monkey don't stop no show, but after the fourth hour you might begin wishing it could.