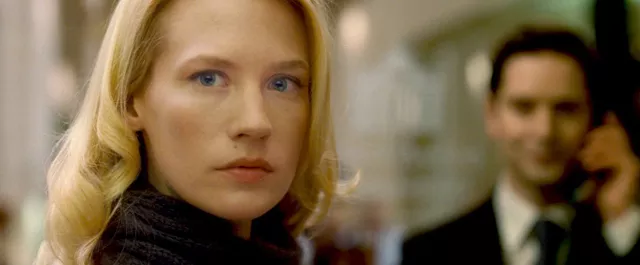 In Unknown, Liam Neeson plays a guy desperately trying to reclaim his lost personality, which is fitting, because the film itself spends long stretches in search of an identity. A clipped and efficient thriller with a tortuous Rod Serling bent, Unknown tries mightily to wrap itself in a heavy blanket of Cold War ambience even though there haven't been cool breezes whipping over the Iron Curtain since David Hasselhoff had a career.
Liam Neeson, now firmly entrenched in the middle-aged action-movie rut that Harrison Ford once occupied, stars as Dr. Martin Harris, an American scientist visiting Berlin for a major biotechnology conference, alongside his brittle trophy wife (Mad Men's January Jones). A luggage snafu sends Martin rushing back to the airport before the couple has even checked into the hotel, and he's promptly involved in an accident which sees his taxi plunge into the river. He's rescued by the heroic efforts of his extremely lovely blond driver (plausible, right?) played charmingly by Diane Kruger. When the good doctor awakens, his travel documents are missing, his wife denies she's ever met him, and a sleek impostor (Aidan Quinn) has taken his place by her side. Our confused hero also gets an assist from a detective (Bruno Ganz) who's as likable as a former East German secret agent can be. Harris is now racing to recover his memories, maintain his sanity and regain his life, all while staying ahead of hired killers out to get him. This isn't the kind of information covered in the Frommer's travel guides.
Director Jaume Collet-Serra hits the correct checkpoints for this kind of affair, and plays things close enough to the vest that the finale's twist will be a modest surprise to those who've not sat through dozens of thrillers in recent years. Any resemblance to the Bourne Idenity is strictly intentional, though Neeson's lanky Irish frame is nowhere near as fluid or explosive as Matt Damon's while performing the slap-happy, frenetic combat style of modern actioners. If you're wondering where a botanist learned such moves, then you'll be ahead of the plot when the menacing Frank Langella shows in the third act.
Only slightly less xenophobic and hardcore then Neeson's surprise 2008 hit Taken, Unknown entertains and engages without ever fully involving us in the vaguely absurd plot machinery.