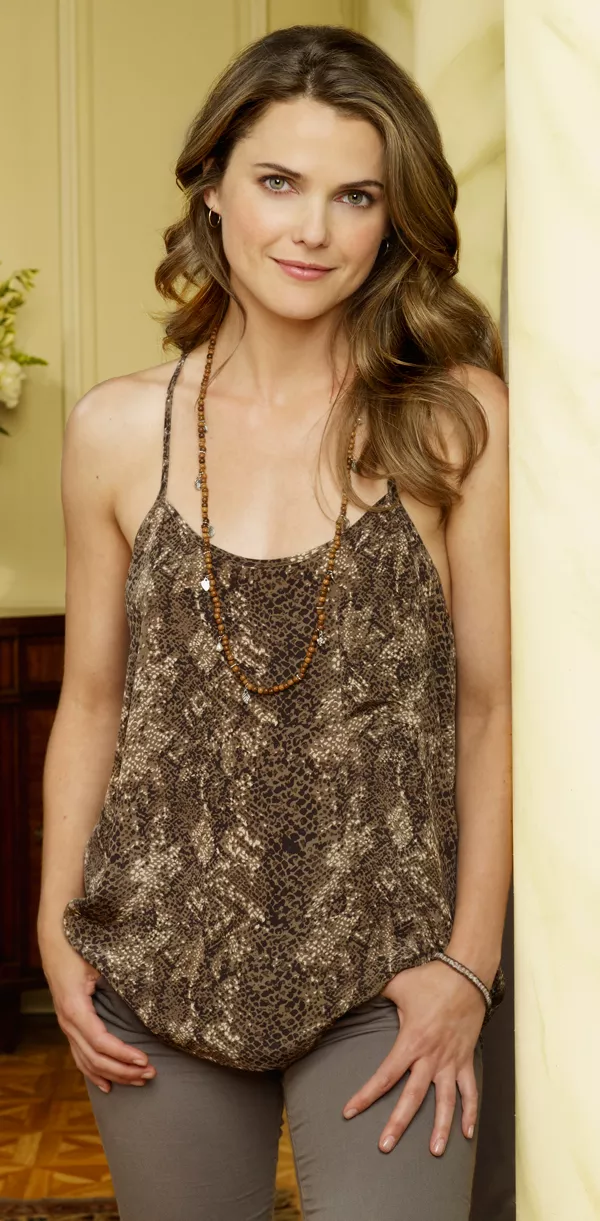 What was once Felicity is now just Foolish. Keri Russell, the wispy, curly-topped beauty largely absent from your TV screens since starring as idealistic New York college student Felicity Porter in the Golden Globe-winning '90s series Felicity — one of the few legitimate hits on the old WB Network — has resurfaced in the most unexpected of places. She's playing oddly named environmental zealot Emmy Kadubic opposite Will Arnett in the wacky new FOX sitcom from those Arrested Development people, Running Wilde .
Who knew Keri Russell could be funny? Not even Russell, as it turns out.
"I'm definitely the new kid," she acknowledged by phone the other day regarding the series, airing at 9:30 p.m. Tuesdays (Channel 2 in Detroit). "This show is unlike anything I've really done before. It's such a different ride, and I feel like I'm learning so much every day. It's fast, it's furious, especially with Mitch [Hurwitz, who co-created and writes the series with Jim Vallely and Arnett].
"He's rewriting things seconds before we shoot them. I'm not talking one line; I'm talking pages of rewrites. Then he says, 'Go ahead, I'll just stand off to the side and give you your line.' I say, 'Mitch, that's not how it works!'"
Running Wilde may or may not be the funniest new show of the season, but it is far and away the silliest. Arnett is Steven Wilde, the vacuous, self-consumed heir of an oil tycoon whose vast riches can buy him anything — except the love of his childhood sweetheart Emmy, who's become an ultra-liberal humanitarian and single mom who detests everything Wilde's money represents. The frequently funny and consistently strange David Cross (who bowed last week on his own series, The Increasingly Poor Decisions of Todd Margaret , on IFC) plays Emmy's fanatically green boyfriend who's obsessed with bringing down the Wilde Oil empire. Little Stefania Owen, a standout in the film The Lovely Bones , is Emmy's daughter, Puddle, and assumes the series narrator role Ron Howard performed on Arrested Development .
"I certainly wasn't shopping around to do a series again," affirms Russell, 34, who's furthered her career in successful movies like Waitress and Bedtime Stories . "I had such a great run with Felicity and it was such a positive experience in every way, I wasn't looking to re-create that. But when I read this, I'm a huge Arrested Development fan and I was just so taken by Mitch Hurwitz that I couldn't pass it up. It was a good fit, and it's just been a delight. I feel like I'm hanging out with my older brother and all his cool friends, just tagging along every day."
It's somewhat surprising FOX would take another chance on a show with Arrested Development flavor, since AD could muster little more than a small but zealously loyal audience and critical raves before getting yanked after three rocky seasons. The writing is smart and quick: Some jokes work, some don't, but they come in waves. It's easy to understand why pseudo-intellectual network nabobs would adore Running Wilde , but how will it play in Plymouth?
Whatever happens, Russell is in Wilde for the long running. "I'm getting to work in New York, where I live, which is wonderful. We get to be close to our families and not have to move our whole lives. I'm enjoying it so much, I'm laughing all day. It's just refreshing for me. It's an absolute change of pace."
All fall down:Remember last month when I said I couldn't figure out how FOX's heavily-hyped new drama Lone Star , which featured a conman-slash-bigamist juggling two Texas wives, would attract a sympathetic audience? Man, I'm almost never this right! Lone Star — hailed by Entertainment Weekly as one of the five best new shows of 2010 — is now a fallen star, cut by FOX after just two episodes, making it the first cancellation of the young fall season. In its second and last outing, the series placed a woeful 75th in that 18-to-49-year-old demographic over which networks and advertisers salivate, according to data from the Nielsen Co. Episodes of Lie to Me will fill FOX's 9 p.m. Monday hour for now.
Apparently none of the new fall series is blowing up anybody's remote. Old stalwarts Dancing With the Stars and NBC Sunday Night Football are grabbing the most aggregate eyeballs, with returning scripted hits like NCIS , NCIS: Los Angeles and The Mentalist keeping CBS in its accustomed spot atop the prime-time wars. The most-watched new series so far is CBS's reimagining of Hawaii Five-O , unquestionably the most pleasant surprise of the season. NBC's top new show — and I have no idea what this means — is the India call center/ethnic stereotype sitcom Outsourced . Somebody tell me it's benefitting hugely from 30 Rock and The Office as its lead-ins!

Dissa and data:Tony Curtis used to joke that TCM stood for "Tony Curtis Movies." On Sunday, he'll be right. The cable movie channel is devoting an entire day to the films of Curtis, who died last Wednesday at age 85. Check your DVR: Sweet Smell of Success airs at 8 p.m., followed by his Oscar-nominated performance opposite Sidney Poitier in The Defiant Ones at 9:45 and Trapeze at 11:30. Stunningly, there's no sighting of Some Like It Hot in the 24-hour salute. ... OK, I've watched the first episode and every promotional clip I can find for Harry Loves Lisa , the new reality series dogging every move of Hollywood spouses Harry Hamlin and Lisa Rinna that premieres at 10 tonight on TVLand, and I have the same question I had at the outset: Who would want to watch this? Hamlin, boring even in his salad days of L.A. Law , today looks like Mick Jagger's older brother, and Rinna's signature lips constantly threaten to consume your screen. Harry Hamlin working a comedy club in tonight's opener? Reality bites.