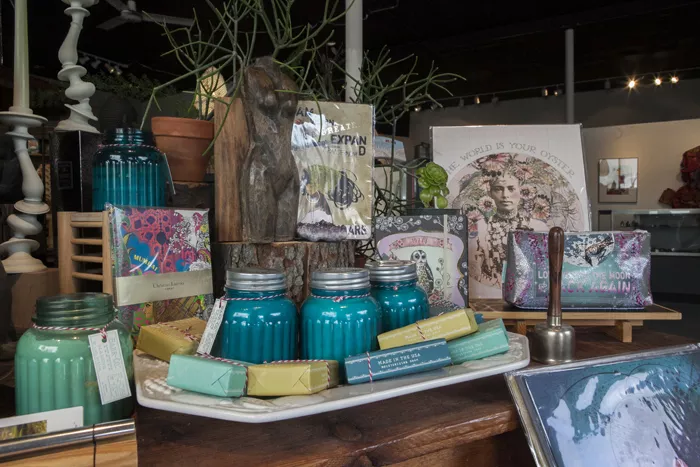 Tulani Rose | 4201 Cass Ave., Detroit; 313-832-2477; facebook.com/tulanirose
Open 11:30 a.m.-5:30 p.m. Tuesday-Friday, 11 a.m.-6 p.m. Saturday.
If you're looking for this little Midtown lifestyle boutique, you just might pass it by. We have, a few times, and it wasn't until we made an appointment to meet shop owner Sharon Dell Pryor that we found our way to Tulani Rose. Located on the corner of Willis and Cass, just down the street from Melt and around the corner from Avalon Bakery, Tulani Rose has no signage. Instead, above the door there's a marquee that reads "Spiral Collective." Inside, shoppers will find a delightful assortment of goods, such as delicious-smelling candles by Barr and Co., soaps from Cellar Door, art from Detroiters like Eno Laget, and locally made beauty products from Featherheart Trading Co.
Having curated the shop for over a decade, Pryor says she enjoys the recent growth in the community, as well as the uptick in foot traffic. She's recently taken to photographing unique customers who walk through the doors, and she showed us her Instagram feed, where she's posted images of folks who've traveled to her store from as far as the Horn of Africa.
We purchased a pot of sandalwood rose moisturizing cream and a notebook and a planner from Papaya. Art. Some notable finds we left behind were a collection of dog-shaped pillows and a Type Shy notebook. Prices are reasonable for a local business, with a giant candle going for $15, a hardback Papaya Art print selling for $20, and a gorgeous set of hand-drawn tarot cards from the Wild Unknown for $40. Other wares include some quirky candleholders, Detroit-themed jewelry, and a few copies of Canvas Detroit.