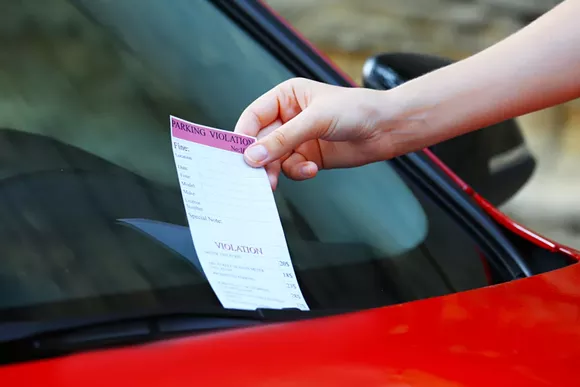 The Slow Roll took off from Hamtramck's Fowling Warehouse last night at around 7:30 p.m. and came back after its usual leisurely ride to find that Hamtramck Police had ticketed about 100 cars for parking illegally. Riders also were disappointed to find that several cars had been broken into.
The grief over the thefts was perhaps best expressed in a haiku-like entry that was posted on Facebook's Slow Roll Monday Nights page:
Busted Passenger Window.
Book bag with laptop stolen.
I don't know what to do.
That laptop is how I got business done.
It's worth pointing out (as several others did below this post, in a gentle and sympathetic manner) you should never leave a laptop in your car. Like, ever. Certainly not visibly, and probably not hidden either. Probably not anywhere, but certainly never in any American big city.
And this isn't to blame the victims of such crimes, but to point out that such crimes can be prevented entirely by not allowing the scenario to happen. Because, in the best of all worlds, events like Slow Roll are pleasant initiations into city life, not unpleasant learning experiences that leave you never wanting to go into the city again. Frankly, we were surprised that this warning never made it to this Slow Roll participant. (If that sounds unfair, one of our favorite diners in Corktown thoughtfully has a sign warning patrons not to leave valuables in their cars. And we're surprised more establishments don't.)
Perusing further comments, at least one rider was upset that there wasn't enough parking, and another rider was upset that the parked cars weren't watched by security. Of course, it's probably enough work for Slow Roll to simply work with the city to ensure all the demands it makes upon this mammoth ride are met. Should an organization dedicated to leisurely bike rides through the city devote the considerable resources needed to ensuring its participants' cars aren't broken into, it would be ironic, to say the least.
And that's only to discuss the comments about property crime. Apparently, a number of Slow Roll participants parked on Conant and were ticketed. This earned Hamtramck a number of angry comments as well.
Honestly, though, this is something that has happened to us in the past. It's a rookie move: You are looking for parking spots, and you see a spot where a number of cars have parked, and you presume it must be a legal place to park. (Can all those cars be illegally parked?) Then, later on, you realize you've been ticketed. (Well, yes, all those cars
can
be illegally parked.)
Now, not to say it doesn't sting a bit to find an envelope under your windshield wiper, but to blame the city right away seems unfair. There are signs with that classic "P" with a circle and bar over it on Conant. But that didn't stop some commenters from ripping on Hamtramck for ticketing them.
"No more slow roll in Hamtramk. Why did they give out parking tickets?"
"NO MORE HAMTRAMK!!!!!!!"
"Bike life should boycott Hamtramk they gave out tickets for parking in lots without no parking signs posted!!!!!!!"
"hamtramck disrespected slow roll....never have we had any problems with cars being broke into tickets written none of that I hope we never have another ride from Hamtramck"
One of the most interesting comments alleged a Detroit cop had told them to park on Conant's fire lane, but then blamed HPD for issuing the tickets as well: "Squad and Detroit Police officers directed some of us to park in those locations. I was motioned to my spot by both actually. My ticket was issued at 7:59PM. Hamtramck police were just waiting."
OK, so much for the rancor and anger at Hamtramck. Let's switch gears for a moment and focus on a closed group devoted to chatter by residents of Hamtramck that, as of this morning, after seeing all the angry comments about their fair city, seemed to collectively roll their eyes.
Choice comments included:
"Total bummer parking is enforced all the time and isn't more lenient when slow roll is in town."
"There were at least 40 cars parked along Conant by Fowling. It's all no parking and there are tons of signs. These people are the worst."
"Okay. On the post about the stolen laptop, can you ask the idiot who commented that the cars should be watched, who did they think was going to watch their cars? Like, were us residents who they graced with their presence supposed to line up along the fire lanes and guard their things while they rode around?"
"Good lord. Ride around your subdivision. Ugh."
Is there any silver lining in all this? There is some good news, yes.
When it comes to parking tickets, if you want to talk about a city that seems to enjoy ticketing people, look north to Royal Oak:
That community issued 1,595 tickets during Arts Beats & Eats last year
. What's more, we hear that you can pay just a fraction of the fine if you pay Hamtramck within 48 hours. We're trying to get confirmation this morning, but we believe a $20 fine can be taken care of for as little as $5 within two days of issuance. (We doubt Royal Oak does that.)
Also, learning to understand the city can be a bumpy ride itself, and the blame goes way beyond the city-within-a-city of Hamtramck or the organizers of Slow Roll. It begins with the acknowledgement that bad things can happen, and that it's best to be prepared for that. People have been going to events in Detroit and having their cars broken into for decades; this isn't a problem exclusive to Slow Roll.
Slow Roll isn't perfect, but it's an evolving group whose mission is to dissolve barriers in a deeply divided region. That's something we should all be down with, whether we're from the suburbs, Detroit, or the evil, money-hungry, cyclist-ticketing bastion of Hamtramck. Let's try not to lose sight of that.
==========================================
UPDATE: 10 a.m.

This message was sent to Slow Roll organizers by Hamtramck Mayor Karen Majewski:
Good morning, Slow Rollers. The problems with Monday's Slow Roll (which sounds like it covered ground in Hamtramck and surrounding Detroit neighborhoods) has come to my attention. Please find here a response from a member of the Hamtramck Police Department who was on duty that night that may explain some of what happened. I realize this may not answer all of the questions for folks who got parking tickets or had their vehicles broken into, but it's most important to realize that Slow Roll organizers did not notify the City of Hamtramck or the HPD of the event ahead of time. The City of Hamtramck was not invited to be part of any advance planning for parking alternatives or security, if there was any. (We do have a Police Reserves program which organizers of other events often use for parking and security.) We encourage you all to visit Hamtramck. We're proud of our city and its bars, restaurants, and small shops, and we want everyone to have a good time and feel welcome when they come here.
Here is the response from Sgt. Cornwell:
"On 06/06/2016 at approximately 1900 Hrs., The Slow Roll held an event at the Fowling Warehouse. There were approximately 6,000 bicyclist riding in the event. Most of these people drove their personal vehicles to the city and unloaded their bicycles. A great majority of these vehicles were parked illegally. There were cars parked on sidewalks, blocking driveways, handicap spots and bus stops. The Detroit Polioce Department had a full complement of officers, squad cars, motorcycles and bicycles shutting down streets in Hamtramck including Conant. These officer said they were instructed to come to the Fowling Warehouse and handle traffic as well as escort the Slow Roll. We heard of the Slow Roll on line however the organizers never notified the department of this event, nor did they request police assistance. Traffic was at a stand still and it was virtually impossible to drive down any of the side streets. Officers from Hamtramck began to write parking violations to vehicles that were illegally parked. This was before the Slow Roll started and in full view of all of the people. They chose to ride off instead of moving their illegally parked vehicles. This being said, we issued nearly 100 parking violations. As you can see in the attached photo, there are 2 DPD cars and a motorcycle directing traffic. After I took this picture they moved into the center of Conant. In the future if they want to have this event in Hamtramck, they should contact us and coordinate with HAPD and not just assume it is ok for DPD to take over our streets without even notifying us."