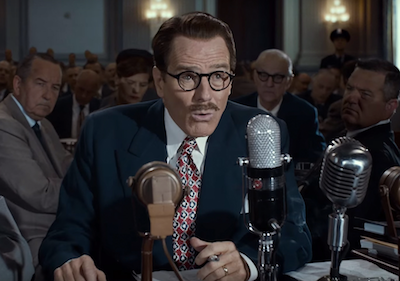 Unless you happen to be Joe Bonham — the protagonist of
Johnny Got His Gun
— you're probably aware that the new
Star Wars
movie came out. But while this event seemed to overshadow all else, most of us are unaware that another important landmark in cinema quietly took place last month, with the debut of director Jay Roach's biopic
Trumbo
.
Its subject is Dalton Trumbo, perhaps the most prominent member of the Hollywood Blacklist. At the height of the Cold War's "Red Scare" hysteria, Trumbo and other screenwriters were called before the House Committee on Un-American Activities to name one another as affiliates of the Communist Party. Though their activities were not illegal per se, studios were under tremendous pressure to root out Communist sympathizers. After refusing to give the committee names, Trumbo and the Hollywood Ten were convicted for contempt of Congress.
The better part of
Trumbo
is spent in the years following his release from prison, when the Hollywood Ten and many others were blacklisted, preventing them from working in the motion picture industry. Actor Brian Cranston of
Breaking Bad
is cast in the lead role, and does a predictably convincing job bringing Trumbo — with a seemingly irrepressible tendency for rhetorical flourish — to life. He is repeatedly asked to shut up by Louis CK, who appears more or less himself in fictional colleague Arlen Hird, a composite representation of the many writers who, unlike Trumbo, were effectively suppressed by the blacklist.
But it was against all odds that he managed to generate such a prolific body of work. Pursued by the fiercely anti-Communist Motion Picture Alliance for the Preservation of American Ideals, which included members John Wayne and Ronald Reagan, Trumbo is forced to work under various pseudonyms. During this period, he authors a constant stream of B-movies, and two Academy award-winning scripts — for
Roman Holiday
and
The Brave One
. More than a decade passed before Dalton Trumbo's name appears in the opening credits for
Spartacus
.
So far, the film seems to have garnered mainly negative response from critics. The
New Yorker
's Anthony Lane gave the film a mixed review, criticizing the film's story as meandering, while praising the performance of supporting cast members like John Goodman and Helen Mirren.
The New York Times
completely canned
Trumbo
as oversimplified, visually dull, and unimaginative in its storytelling. For people with a love of great cinema, perhaps this is a matter of an essentially good movie failing to match the lofty expectations they would set for such a giant of film and literature.
One of
Trumbo
's most interesting moments comes early on, when an anti-Communist politician suggests that cinema has the power to transform human consciousness. This is initially brushed off as overblown rhetoric. But we are given the remainder of the film to ponder whether that's actually what Trumbo and the Hollywood Ten believed.
After all,
Spartacus
begins with that most basic, dangerous, and occasionally valid tenant of Marxism, that human beings have the power to alter society for the better. Fifty years after Trumbo and Kubrick's epic marked the end of the Hollywood blacklist, it would not be unreasonable to say that most Americans are more familiar with the STARZ series of the same name, which is basically like a shittier version of
Game of Thrones
.
One of the few positive reviews of the film came from Rex Reed of the
Observer
, who concluded that if the film manages to introduce a new generation of moviegoers to the man and his work, it will have served its purpose.
Art fulfilling a social function — just the kind of subversive, quasi-Marxist thinking so fitting for a man such as Dalton Trumbo.