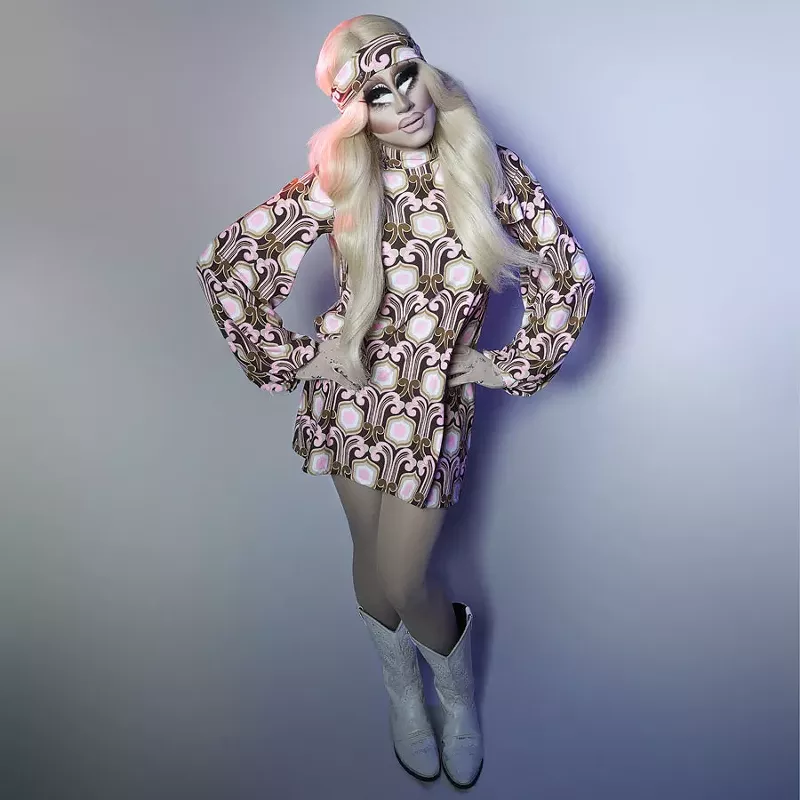 After cementing her place in the Drag Race Hall of Fame by winning the third season of RuPaul's Drag Race: All Stars and releasing two folk albums that took her to the top of the iTunes charts, it's safe to say that Wisconsin-bred Trixie Mattel is having a moment.
And if things couldn't get even better, Trixie, alongside her season 7 sister Katya, debuted The Trixie and Katya Show, a TV talk show on Viceland, where the two queens riff with each other on random topics like death and sex. The show originally started as a YouTube series, and they're the very first "Ru Girls" to land a TV show after appearing on Drag Race. Somehow, through all this, Trixie still had time to release her own line on makeup, called Oh Honey!, with Sugarpill cosmetics.
"It hasn't been a bad year," Mattel admits.
Metro Times: How did you come up with Trixie Mattel, for those who may not know of you yet?
Trixie Mattel: Those people are dead to me. (Laughing.) I'm kidding. I kind of do stand-up comedy and folk music through the vessel of this wind-up children's toy. It's this extreme My Little Pony and Polly Pocket look, but with this darker material and jokes. Not sad, but human. This relatable material presented through a nonhuman.
MT: This tour has been going on for months. Have you gotten bored with the show yet?
Mattel: We've done like 49 or 50 North American shows alone, and every show I'm excited to get into drag. I love doing my own material, and I really like people listening to me.
MT: Coming out with two folkish country albums kind of came out of left field. Were you nervous to present this side of Trixie to a bigger audience?
Mattel: You know, about three years ago I was touring a show and I had a section about breaking up with someone, and I played one of my songs in it. I wasn't sure how the audience was going to go with it, but I almost wanted to trick them into thinking it was funny. Actually, it was a really sad song framed around comedy. It was a pretty successful experiment and just made me realize to be honest with my work and with the audience.
MT: Kacey Musgraves has expressed on social media how much she loves you. Has anyone else in the country world reached out to you? Do you think country music is ready for a drag queen?
Mattel: I don't think they know I'm alive. I'll chart high on the folk and Americana charts, but I'll never be mentioned or interviewed in those publications. It's this double standard where drag is the reason people will pay attention to you, but it's the reason some people will never pay attention to you.
MT: Was there a reason you never showcased your guitar and songwriting skills when you were on season 7 of Drag Race?
Mattel: If you think of what Drag Race is, it just doesn't fit. There's no way to showcase that kind of talent unless you're in, like, a talent show challenge, which I got to do in All Stars.
MT: You tweeted the other day that you're entering your Blink-182 phase. Are we getting new music?
Mattel: Yes! I've been writing so much new music. I've been listening to Blink, Weezer, the Runaways. A lot of aggressive, poppy indie music. I've never liked it and I don't know how it started.
MT: After you won All Stars 3 you said you were done competing in Drag Race. Do you still feel the same way?
Mattel: I wouldn't go in there if you put a gun to my head. I'd go in for like, a visit, or a little wave, but as far as competing, I'm just not a competitor. If you look at everyone who has won Drag Race, like Alaska or Bianca, I am the least competitive person. I'm obviously so happy I won, and I think I do represent a different viewpoint, but it's like every time I leave there I'm like a wartorn refugee.
MT: Tell us about your new makeup pallet from Sugarpill?
Mattel: I've had such a clear vision of what I wanted this pallet to be, and luckily the owner of Sugar Pill was so excited when I asked if she wanted to work together. I knew I wanted to do a warm and neutral product. Obviously I'm known for really extreme makeup, but most of the time I'm wearing very neutral colors. I wanted a product that you could wear at a drag show, or at the library.
MT: Can you tell us anything about a second season of The Trixie and Katya Show?
Mattel: Well, RuPaul is the producer, and if I said anything I would be killed.
Trixie Mattel performs on Thursday, Oct. 11 at the Fillmore, 2115 Woodward Ave., Detroit; thefillmoredetroit.com; 313-961-5451; Doors at 7 p.m.; Tickets range from $37-$52.
Get our top picks for the best events in Detroit every Thursday morning. Sign up for our events newsletter.