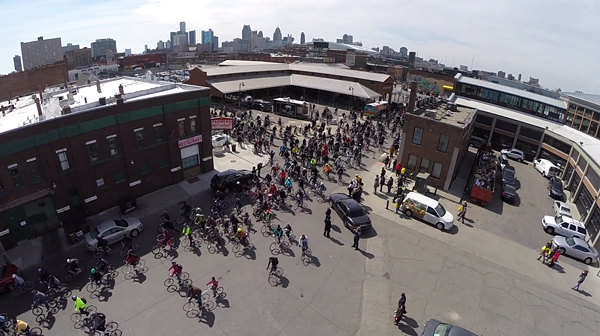 The Gray Lady's "Detroit learning curve" is still on the rise.
Some
MT
readers may recall how
The New York Times
first discovered Slows Bar-B-Q in 2010
, making the barbecue restaurant and bar the centerpiece of a visit to Detroit. In 2011,
they came again
, dropping in at a bunch of restaurants, including Slows. Then, in June of 2014,
they came to Detroit
and visited Slows Bar-B-Q again in a piece that, between several photographs, did not show a single person of color.
They came back in October
and declared that Detroit, formerly a food desert, was now a "culinary oasis" — an overstatement that did nobody any good.
We noticed
the coverage really began to smarten up in 2015
, when the newspaper of record sent a correspondent to join homeboys Max and Eli Sussman on a trip back to Detroit. And a new piece appears today, "
Detroit: The Most Exciting City in America?
" (Should headlines end with a question mark?) There's much to like about it. It's obvious the writer burned up some serious shoe leather doing his reporting, and his story includes plenty of people of color, if it still suffers from a few deficits.
First, what's good:
• Light on the Gilbert as savior narrative: Instead, the writer offers that sense of a city whose identity is up for grabs.
• Heavy on the ground-up sources that have been around before, well, correspondents from the
New York Times
: Tyree Guyton, Dabls, Mitch Cope, and Gina Reichert (misspelled, unfortunately, as "Reichart"), Jason Hall, Matt Naimi, Susan Murphy, Malik Yakini, Cynthia Davis, and many more.
• At least one sentence arguing that the neighborhoods are the heart of Detroit.
• Another sentence arguing the people of the city are the city's greatest asset.
* Mercifully little time spent with auto company hotshots, developers, glad-handing real estate spokespeople.
• The writer shows a talent for being able to come right up to some of the more feverish corporate dreams of the city's future and then step back into reality.
• Phil Cooley, while still a very cool dude, is only mentioned once in this piece.
There are some things about the article, however, that are downright silly or unhelpful.
• Again, the false statement that 40 square miles of the city are vacant is repeated once more.
According to the experts, the true figure is more like 20 square miles.
It does nobody any favors to keep repeating this mistaken statistic, and to then say "Detroit continues to struggle … because its population is scattered across such a massive area." Detroit is more dense than Houston or Dallas, so the struggle is obviously not related to density.
• Some of the reporting just seems invented. The writer describes riding the QLine "past buildings being thrown up at a lightning pace." Huh? Perhaps the Pizzadome was going up around that time, but the facts just seem wrong … again.
• It's also too much to say Detroit is riven with "beautiful, empty interstates." Yes, we have plenty of capacity in the city, but try going crosstown on the Edsel Ford between 4 and 6 p.m.
Ultimately, even when the writer is perceptive, interviews a bunch of good people, and writes a mostly good piece for the
New York Times
, the problem may be that big, sprawling stories always resist being drawn in simple narratives. Is it possible to visit a place like Detroit and come away with that nuanced picture that doesn't have a single error informing it? Or should we just buckle down and get used to this Cliffs Notes story of Detroit that boils down to excitement and spectacle?
We were more delighted to see the name of an old friend in a piece complementing this junket, Concepción de León's "
What to Read Before Heading to Detroit
," which included
Black Detroit: A People's History of Self-Determination
. The author of that book, Herb Boyd, was a contributing editor to
Metro Times
until as recently as a decade ago. Boyd has spent enough time in Harlem to be an honorary Manhattanite.
Gee, maybe they could send him next time?