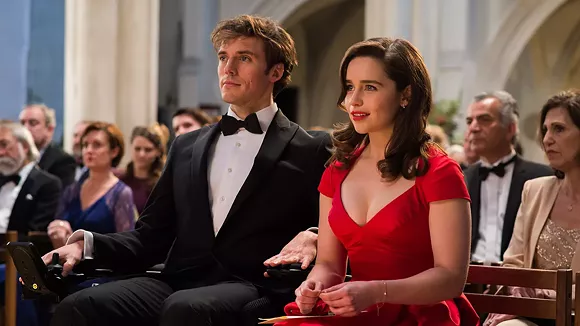 Before we get started, I will preface this by saying the great Canadian thinker Kara Crabb inspired me to use "alt" instead of handicapped or disabled. We're making this a thing. Starting now.
We all have hurdles. Mental barricades that keep us from living our fullest lives. Sometimes we jump them, sometimes we divert our path. For me, that hurdle is a disease I was born with called spinal muscular atrophy, a type of muscular dystrophy. Essentially, signals from my brain don't make it to my legs making them too weak to stand on. Then as I get older, the other muscles start to go. Shoulders, arms, hands. Eventually the heart or lungs. It's rare to discuss this with strangers, rarer still to sit in a theater filled with hundreds of strangers watching your anxieties play out on screen.
But, that is
Me Before You
. Adapted from a beloved novel by Jojo Moyes, this Brit romance focuses on wheelchair-bound Will and his eccentric caretaker Louisa. Will, played by Sam Claflin (
The Hunger Games
), suffers from a spinal cord injury that has deteriorated his physical and emotional existence. He was once a world-conquering douchebag in charge of some sort of Bain Capital rip-off. Only the douche remains after he is paralyzed from the neck down.
This development rings true. Yes, there are thousands of very cool alt people, like the guy whose words you're suffering through, but there might be just as many bitter, awkward douche nozzles (also like the guy whose words you're suffering through, just on a bad day). Claflin embodies this very real response extremely well. We are all allowed to hate the world sometimes. The character's problem, though, is he can't get out of that rut. To give him a nudge his mother hires Louisa Clark.
The lovely Louisa is played by Emilia Clarke (Dragon Nerd Goddess or something. I don't watch it.). Louisa starts off as being Will's caretaker solely for that sweet, sweet caretaker cash. Her family needs it badly. But soon, she finds herself going above and beyond the job's duties to ensure Will lives boldly. She tries mightily, even when he doesn't want anything to do with her.
Plot twist: He has arranged an assisted suicide and she has been enlisted to stop him. They fall in love while hiding their true intentions.
There are missteps in the film. Louisa is too perfect and her arc is dulled to placate a more mainstream audience. Will changes after one measly argument with our female lead. However, a 110-minute film requires a quicker pace than a novel, so this can be "excused."
Me Before You
hits the nail on the head in so many other ways. It is a splendid representation of an alt person's ability to love. We are a marginalized voice. Everywhere. From legislation, to classrooms, to Hollywood. I get it, though. It's hard not to fall into trope pits when the valleys are so low and the highs require a ramp to ascend. But, this film shines when it is just a love story between two genuine people.
There is a crap ton of backlash against
Me Before You
right now. Activists are livid that Will wants to die. They say his stated reasoning for it undermines any human value of the alt. In a heated scene, Will says he refuses to burden Louisa and that she deserves to live more fully than he can offer. The criticism for this outlook is worthy of discussion. However! It is insane to think that an alt with self-awareness avoids thoughts of being a burden. It pervades my mind at times. Accommodation is my best friend, but even then I think "What was sacrificed to ensure my inclusion?" So, when Will heartbreakingly admits his desire for escape, I get it. He doesn't want that world. Me? That's when I do my best to be someone worth including. Two sides of a similar coin.
In the end, it is a solid film. It is a romantic one, so it's definitely hokey in parts. But in a world that excludes so many voices, I admire it for accommodating a new one.