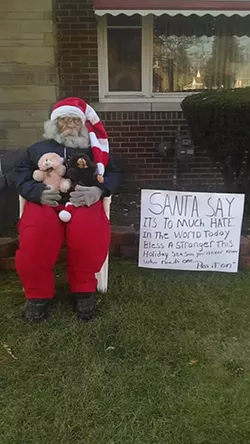 We ALL need a little bit more love in our life, right?
Detroit resident LaRethia Haddon noticed how down and out her community has been feeling these past couple of weeks, so she made it her personal missions to spread some love and joy this holiday season.
Haddon dressed up a dummy in a Santa suit, added some furry friends to keep him company, and posted a sign next to Santa urging her community to love a little more and hate a little less. Granted there isn't any snow to complete the display, but hopefully that will come sooner than later.
The sign simply says" Santa say it's too much hate in the world today. Bless a stranger this holiday season you never know who needs one. Pass it on."
Haddon told us that if we "just come together we can make a difference."
Haddons said that her decorations are getting a lot of attention around her neighborhood already, and she hopes that as many people as possible can see her message and feel some love. That's something we can all get behind!