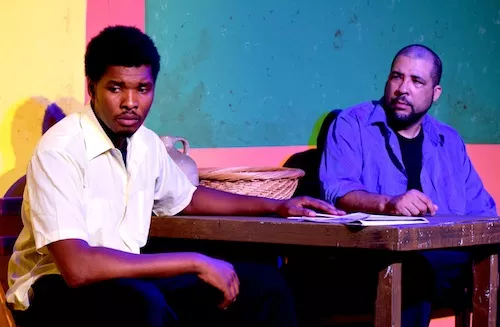 There's just one weekend left to experience playwright Athol Fugard's
Sizwe Bansi is Dead
, a powerful play about one man in apartheid South Africa who's forced to choose between his identity or his family.
As the most engaged fans of live theater may know, Athol Fugard is a South African playwright, novelist, actor, and theatrical director. This work is a collaboration he did with two actors, John Kani and Winston Ntshona, who appeared in the original 1972 production. It concerns a man who lacks a proper work permit trying to find a job outside his village.
A bit more explanation: Lacking full political rights, South African blacks had to rely on valid permits to move from town to town, and often didn't have them to obtain the work needed to support their families.
That's the predicament of Sizwe Bansi, who is in New Brighton, Port Elizabeth, trying to find the job that will allow him to be a provider again.
Then an opportunity presents itself, one that would allow Sizwe to work, but only if he forsakes his identity, and our protagonist must make a fateful decision.
If it all sounds gloomy, it isn't: Fugard had a knack for writing important plays that were more than thinly disguised agitprop. The characters have depth, the dialogue has humor, and you won't need to be a scholar on the history of Apartheid to get what's happening.
Directed by Oliver Pookrum,
the director who brought Detroit
Jesus Hopped the 'A' Train
a decade ago, the all-Detroit cast includes James Abbott in the title role, Jonathan Jones as Styles, and Falah Cannon as Buntu.
And this is just the opening of the 2016-2017 season at Matrix, which has staged nonprofit community-based theater for 25 years. See the full schedule at
matrixtheatre.org
.
Sizwe Bansi is Dead
is at 8 p.m. Friday-Sunday, Oct. 14-16, at the Matrix Theatre Company, 2730 Bagley St., Detroit; 313-967-0999; tickets range from $15 to $20; see matrixtheatre.org for more details.