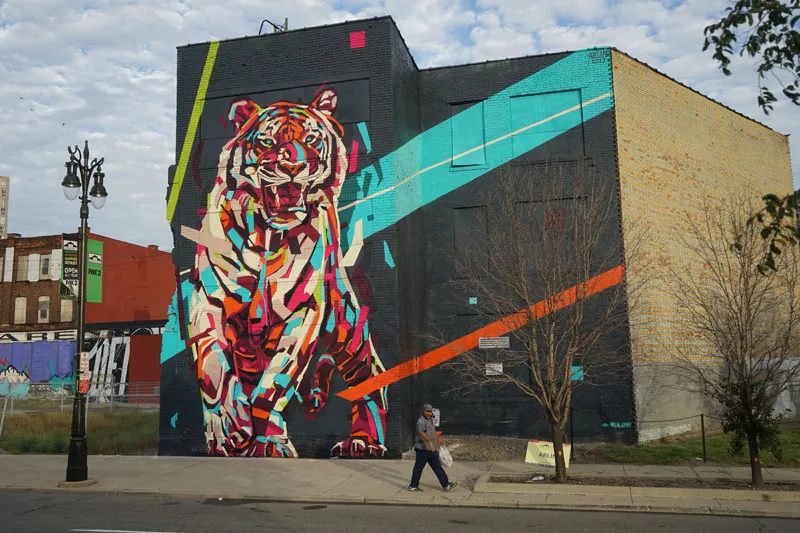 We were surprised to see a long-form story about Detroit street art in
The Ringer
, of all places. Though it bills itself as a website for pop culture, the website was founded by sportswriter Bill Simmons in 2016 and primarily covers sports. But the website published a nuanced exploration into Detroit's street art scene on Thursday that is worth a read for anyone interested in art and urban dynamics and the collision of the two.
"The rise and the risk of the mural economy,"
a nearly 6,000-word deep-dive, picks up several different threads — many of which we've previously covered here in
MT
, including Murals in the Market, Mayor Mike Duggan's
war on graffiti
, anxiety about gentrification, Ford's acquisition of Michigan Central Station, neighborhood branding (thanks for
the link!
) — and masterfully synthesizes them into an insightful piece.
The central question is the role that "starving" artists play, unwittingly or not, in transforming cities. Aside from physically transforming walls with colorful murals, the artwork can, especially in the hand of corporations, serve to transform entire neighborhoods, raising the profile (and real estate listings) of previously undervalued communities.
A sample passage:
Street art is now a business, not just a passion project, and artists are entrepreneurs. Though they're finding more opportunities than ever to paint, disentangling the joy of the work from the complexity of its impacts becomes tougher as the art itself becomes more valuable to more people. "If a developer has a lot of money and is going to pay me and I need a job, weighing out my morals versus my rent is a really hard decision to make," says Ellen Rutt, a Detroit artist who has painted both commercial and noncommercial murals. "And I feel like it's hard to put the responsibility on the people who are more at risk and also experiencing the effects of gentrification. That's one of the hard parts — sometimes I'm painting a wall and I'm literally painting myself out of my own apartment."

The story leaves the question open — nobody knows how things will shake out in Detroit — but it raises some interesting points along the way. You can read the whole story
here
.
Stay on top of Detroit news and views. Sign up for our weekly issue newsletter delivered each Wednesday.