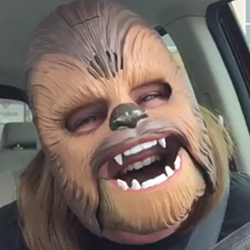 Need a little Friday pick-me-up? Look no further, friends.
We are not sure where this lady is from, what she does with her life, or why she loves Chewbacca so much, but this video that went crazy viral is just too good not to share.
Candace Payne bought a
Chewbacca mask
at her local Kohl's and just couldn't contain her excitement. She decided to video blog about her purchase in her car and she tried the mask on for everyone to see.
What follows is something that I can only describe as pure hilarity and uncontrollable laughter. Candace Payne just can't handle how funny she looks with the mask on. She even says in between laugh outbursts, "This was worth every penny!"
I've watching this video three times already, and every time I just laugh more and more with her. It's quite refreshing to see someone find so much joy in such a simple act. Watch the video below and prepare thyselves for 4 minutes of laughter.