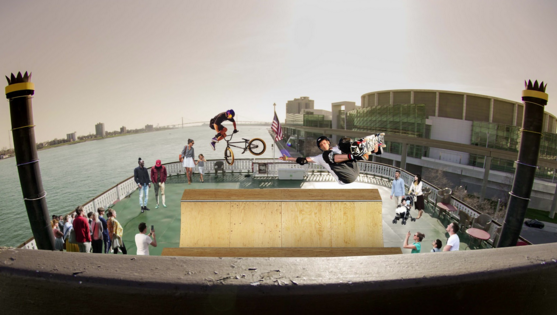 bring a half-pipe inside Detroit's Fisher Building
last year has an even wackier plan — one so wacky we had to call to make sure it was not a joke.
"Yeah, that's a valid question," says Jordan Garland of AsDetroitsOwn, a production company. "I know it's like a trippy thing at first."
What Garland plans to do is construct a half-pipe on the Detroit Princess Riverboat for a one-off cruise later this summer. The "Cruise for Culture" will take passengers down the Detroit River while skateboarders and BMX riders perform on the half-pipe constructed on the Princess' deck. The cruise is also set to include an art show featuring more than 10 local visual artists.
Other than that, Garland says he can't reveal too many details just yet, although he says "a famous pro skateboarder" is set to participate in the event. Hmmm — we wonder who that could possibly be?
The event is set to take place from noon to 3 p.m. on Sunday, July 29. Tickets are $25 and available
here
. A preview video, complete with a mocked-up half-pipe, is below.
Get our top picks for the best events in Detroit every Thursday morning. Sign up for our events newsletter.